Dads, do you struggle sometimes? Who do you reach out to for help? Debbie Pattison, a qualified counsellor at Fegans can answer your questions. Send them in to Ask Debbie at info@dad.info and if she can she will answer.
Today's question is from a dad with two boys who don't have contact with their mother.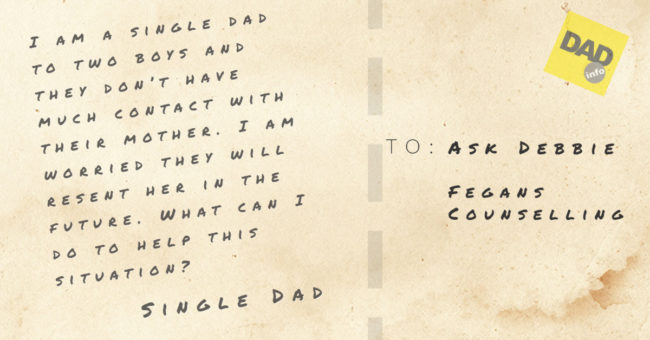 I am a single dad. I have two boys and they don't have much contact with their mother. I am worried that they won't have that mother figure, and they will resent their mother in the future. I had tried to get their mother involved in some of our activities but she is not very good at showing up. What can I do to help this situation?
Single Dad
Dear Dad.
You sound like an amazing Dad who clearly has his children's best interests at heart.
The thing is, you cannot make someone do something. Your boy's mother is in charge of her decisions and actions and whilst you have encouraged and tried your best to involve her in your activities, you cannot make her. As you are now finding out.
What you can do is to continue being a great Dad. You are there for your children and are clearly ensuring that they do participate in activities. How your boys will feel about their Mother and her lack of contact will be their decision in the future.
I would refrain from voicing your own opinion on their Mother's behavior or speaking ill of her at all. By all means, answer any questions that they may have to the best of your ability and just state facts to them.
They will form their own opinion of their mother in the future and with you staying neutral, they will feel more confident to discuss this or any matter with you in the future.
Children do manage very well with one parent and don't necessarily miss a mother figure in their life.
In my experience, if a child benefits from highly loving, nurturing positive relationships with other relatives, they may not feel the effects of a mother figure's absence so greatly.
Keep doing what you are doing. And give yourself a huge pat on the back for being a great Dad.
Very best wishes
Debbie
About Debbie

Debbie is an experienced counsellor and advocates for children and adults' mental health.
Find out more about online counselling with Fegans
Our counselling sessions cost £48 (they are therapy not legal advice, for divorce and separation support please use our forum). If you would like to find out more information about our online counselling, provided by experienced and qualified counsellors leave your details below and Debbie will be in touch for an informal chat to talk through the process and the costs. We work with young people (aged 10 and over) and parents.