Dads, do you struggle sometimes? Who do you reach out to for help? Debbie Pattison, a qualified counsellor at Fegans can answer your questions. Send them in to Ask Debbie at info@dad.info and if she can she will answer. Today's question is from a first time father struggling with anxiety about caring for his newborn son.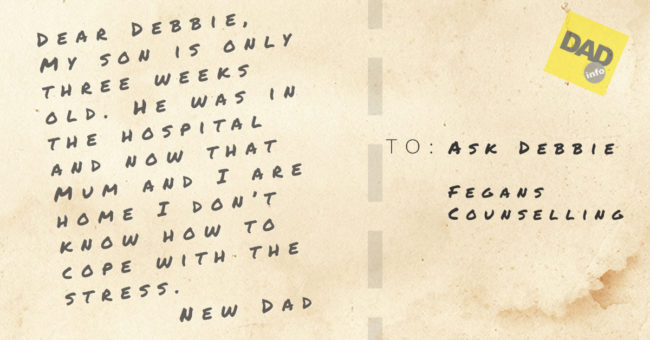 I am a new Dad. My son is only 3 weeks old and I am finding it extremely overwhelming. He was in the hospital for the first 2 weeks and now that Mum and I are home I don't know how to cope with the stress and anxiety about having a newborn.
Anxious Dad
Dear Anxious Dad
Firstly, congratulations on the birth of your baby boy. Our expectations of a new baby rarely meet the reality. I don't think any of us are really prepared for the sleepless nights, endless feeds, nappy changes and baby's crying.
Babies at first are still adjusting to the world around them. Crying is their only way to communicate their needs.
As a first time father, it can be stressful and overwhelming at times trying to determine whether the baby is hungry, tired, needs changing, feels overstimulated, too hot, or too cold, needs to burp, or just needs a cuddle. It is normal to feel frustrated, stressed, anxious and at times helpless when you can't work out why your baby is crying.
Ask for help from family and friends and health professionals.
Managing a newborn baby is a challenge especially at first. But you will get into a routine, and you will cope with the sleep deprivation, sick stained clothes, and endless bottles of baby milk.
Take one day at a time. Sleep when the baby sleeps, go out for walks with the pram. Fresh air will be good for you and the baby and is a great way to de-stress.
You will make it through these early days and the baby will very soon settle into a routine.
About Debbie

Debbie is an experienced counsellor and advocate for children and adult's mental health.
Find out more about online counselling with Fegans
Our counselling sessions cost £48 (they are therapy not legal advice, for divorce and separation support please use our forum). If you would like to find our more information about our online counselling, provided by experienced and qualified counsellors leave your details below and Debbie will be in touch for an informal chat to talk through the process and the costs. We work with young people (aged 10 and over) and parents.