Dads, do you struggle sometimes? Who do you reach out to for help? Debbie Pattison, a qualified counsellor with Fegans Services can answer your questions. Send them in to Ask Debbie at info@dad.info and if she can she will help.
Today's question is from a father worried about his 10 year old son's emotional well-being.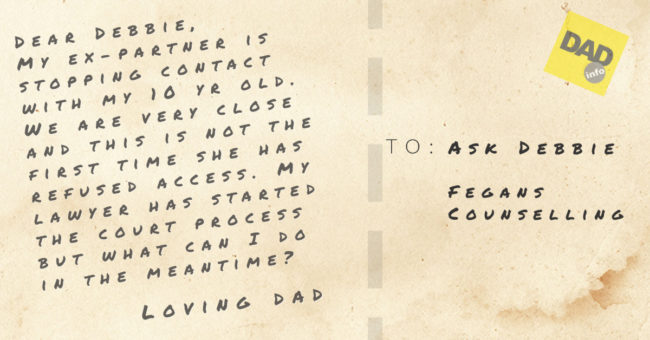 I am worried about my 10 year old's emotional well-being. My ex-partner is stopping every contact I make with him (text, calls, and visits). We are very close and this is not the first time she has stopped contact. My lawyer has started the court process as I don't want this to happen again. What can I do in the meantime?

Loving Dad
Dear Dad,
I am so sorry to hear that your ex-partner is stopping contact with your son. I can only imagine how upsetting and hurtful this is for you, not least the concern that you have for your son. Do come and talk with other Dads in our forum, who are experiencing similar issues.
What happened before?
The first thing I want to say is that the fact you are close is important here, also that this is not the first time that this has happened. I am wondering how your son found this separation and block to contact before? I would imagine that you were both able to talk about it and you were able to reassure your son that this was not your decision on the previous occasions.
In the meantime, I am wondering if you could write a diary/journal for your son? You could add in there how much you are missing him, how much you love him and maybe some suggestions of some fun activities that you can both do together when you next see him. Although you are unable to say or send these things to him right now, it may help you to feel that in some way you are still sharing your thoughts and feelings with him every day. You could also add snippets of your day, that you may have told your son.
Try a journal
When contact starts again, this will be a lovely book to share with him. It will show him that you thought of him every day, will fill him in on your time and he will see how much you love him and have missed him every day.
As for your son during this time, I am wondering if you are able to discretely contact his school? I am wondering if they are aware of this situation. The school will be able to support your son and may be able to arrange some pastoral care or even counselling for him.
I am also wondering if counselling may be helpful for you at this very difficult time. Counselling would offer you a safe, supportive, confidential, empathic space to explore your thoughts and feelings. We offer zoom counselling, contact us to arrange a good time.
Warm wishes
Debbie
About Debbie

Debbie is an experienced counsellor and advocate for children and adult's mental health.
Find out more about online counselling with Fegans
Our counselling sessions cost £48 (they are therapy not legal advice, for divorce and separation support please use our forum). If you would like to find our more information about our online counselling, provided by experienced and qualified counsellors leave your details below and Debbie will be in touch for an informal chat to talk through the process and the costs. We work with young people (aged 10 and over) and parents.