Dads, do you struggle sometimes? Who do you reach out to for help? Debbie Pattison, a qualified counsellor at Fegans can answer your questions. Send them in to Ask Debbie at info@dad.info and if she can she will answer. Today's question is from a hurt dad that hasn't seen his child for years.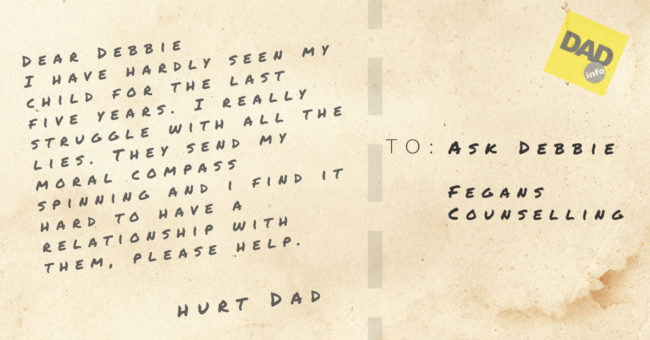 I am a dad. I have not seen my child for years after her mother got ill and they decided to stay with her. I can't cope with the mother's and the child's lies anymore. They send my moral compass spinning and I find it hard to have a relationship with them. I have tried to arrange contact many times but they are always busy, I don't know what else to do.
Hurt Dad
Dear Hurt dad,
Thank you so much for your email to me. I do read every email I receive and respond personally.
I really feel for you and can't imagine how difficult the last 5 years have been for you. Give yourself a huge pat on the back for not giving up. This will not be in vain as your child already knows that you are there and you have not walked away from them. I know that this will be of small comfort as you crave quality time. I totally get that you have been denied 5 years of their life and that's so tragic for you and your child. She has been denied this too.
Underlying Emotions
I would like you to try and separate your child from their Mother. In your email you have expressed that it feels as if they are both lying, agreeing on this course of action. Your child was 11 years old when you separated from the mother and seeing a Mother so ill must have had had an impact on them too. Did they fear that their mother would die?
You don't say in your email why you separated from the Mother but it feels as if your ex is angry and sees your child as her property? Or as a way to 'get back at you?' Your child was probably very confused at this time also and it can be common for children to try to please their primary caregiver. So although it appears to you that your child does not want to see you or have contact with you, this may be that they are trying to do what they feel is right.
Of course, this does not make this situation right. In an ideal situation, you and your ex would be sitting down and agreeing together on what is best for your child.
Try not to let your ex's behaviour affect your feelings or relationship with your child. They are very much caught up in the middle of you both and trying to do what they feel is best here. They are still so young, impressionable and not able to separate themselves from their Mother's feelings at the moment.
Counselling?
I agree with you that family counselling would not work. Ideally, individual counselling for each of you would be the most ideal. Teenagers at this age are finding their own identity and their place in the world. Counselling would help your child so much. They would be able to process and explore all that has happened in their life. I don't know whether her school would be able to provide this for her?
Whether you could talk discreetly to them about this?
I really hear you when you say how much this all affects you, particularly when you don't get replies to texts or phone calls; when you are accused of not trying and when you do you get a barrage of lies or told you don't care.
Staying in touch
Please don't give up here. If you find the phone calls and texts too upsetting, try letter writing.
This way you can regularly keep in contact with your child. Keep them light and 'newsy'. I know it's hard but refrain from saying anything about their mother. Show your child who you are. Be the better person and don't entertain the mother's behaviour. I know that you may not get a reply and that will be difficult for you, but see it as a way of building a relationship with your child. Maybe you could tell them some of the things that you have been doing and tell her how lovely it will be to share those things with them too.
Have you considered counselling? You have been through so much and this as you say greatly impacts you and your mental health. I am concerned for you here. Counselling would offer you support in a confidential, safe place. Our zoom online counselling can be arranged at a day and time to suit you.
Very best wishes
Debbie
About Debbie

Debbie is an experienced counsellor and advocates for children and adult's mental health.
Find out more about online counselling with Fegans
Our counselling sessions cost £48 (they are therapy not legal advice, for divorce and separation support please use our forum). If you would like to find out more information about our online counselling, provided by experienced and qualified counsellors leave your details below and Debbie will be in touch for an informal chat to talk through the process and the costs. We work with young people (aged 10 and over) and parents.