Dads, do you struggle sometimes? Who do you reach out to for help? Debbie Pattison, a qualified counsellor at Fegans can answer your questions. Send them in to Ask Debbie at info@dad.info and if she can she will answer.
Today's question is from a dad struggling to afford presents for Christmas.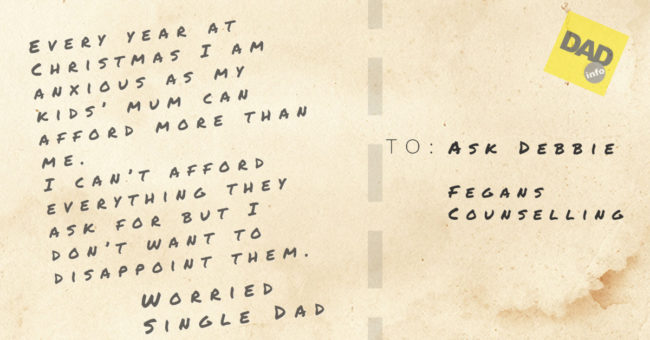 I am a Dad with 3 children (4 7 9 years old) with shared custody, and I have a good relationship with my ex-wife. Our children spent Christmas's day with her and Boxing Day with me. Every year I am anxious about our children's expectations when it comes to presents as her mum can afford more than me. Because we are separated they expect more from the both of us and I can't afford everything they ask for but I don't want to disappoint them.
What can I do to make them happy without giving them what they asked for?
Worried Dad
Dear Dad
I really feel for you. It is so hard as a parent when you want to give your children what they want and just cannot afford to do this. I also hear you when you say that it is doubly difficult for you when you know that your ex can afford to buy them more expensive gifts.
But you know it's not all about the gifts.
Children will always ask for things but your time and attention is just as important, if not more so.
For most children, it's the simple yet thoughtful gifts that cost little or no money that tend to stay in their minds.
Ask your children what they liked best about their previous Christmases and get them to compile a list of the activities that they would like to repeat.
Do some arts and crafts with them. Children love this, they can use things like twigs and pine cones and make some lovely homemade Christmas ornaments
Launch a new family tradition and let your children decide what it can be. This can be as simple as attending your town's light up ceremony, watching a Christmas movie together or taking a stroll around the neighbourhood to see all the Christmas light displays.
Children also love to play games. Play a chocolate hunt or candy cane hunt around the house or outside.
Do some baking, such as decorating a gingerbread house, or making some Christmas cookies.
Some of the ideas above can be given to family and friends as gifts, to show your children that these simple gifts can be just as special as they are homemade and the time, attention, love and care that went into it is priceless.
Very best wishes
Debbie
About Debbie

Debbie is an experienced counsellor and advocates for children and adult's mental health.
Find out more about online counselling with Fegans
Our counselling sessions cost £48 (they are therapy not legal advice, for divorce and separation support please use our forum). If you would like to find out more information about our online counselling, provided by experienced and qualified counsellors leave your details below and Debbie will be in touch for an informal chat to talk through the process and the costs. We work with young people (aged 10 and over) and parents.