Dads, do you struggle sometimes? Who do you reach out to for help? Debbie Pattison, a qualified counsellor at Fegans can answer your questions. Send them in to Ask Debbie at info@dad.info and if she can she will answer. Today's question is about being anxious about going to court…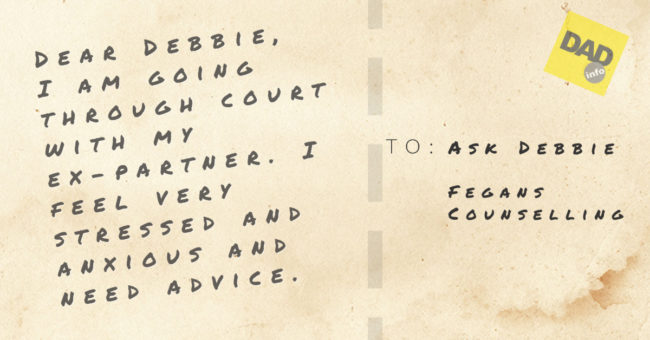 I am a dad going through a court process with my ex-partner. I feel very stressed and anxious. I need some advice on how to manage my stress and anxiety, and to learn coping mechanisms.

divorcing Dad
Dear Dad,
A court process can be a very stressful time; full of worries of what could happen and of not feeling in control. Although you cannot change the process, you can change the way you think about it and react to it. Try not to get caught up in the 'what if's of the situation and try to stay in the 'here and now'.
Take time out for yourself as much as you can, where you can step away from the court process and clear your head. I have made some suggestions below of some ways that you can do this.
Listen to music, do a relaxing meditation, have a massage, meet with friends or family or pursue an interest or hobby.
Try to eat well-balanced meals, not to skip meals and keep some healthy snacks with you at all times.
Keep alcohol and caffeine to a minimum as they are known to aggravate anxiety and can trigger panic attacks.
Try to get as much sleep as you can. If you find it difficult to sleep, try a relaxing meditation, or listen to some relaxing music.
Exercise daily as this will help you to relax, feel good and keep you healthy. Walking is an excellent way of de-stressing. As you walk practice mindfulness by noticing the birds, trees, flowers etc. on your walk. Notice the sounds that you hear, the smells, the temperature. As you feel a thought coming back to your mind, focus back on what you see and hear right now.
If you are feeling very anxious, try some deep breathing exercises. Breathe in deeply, so you feel the breath right down in your diaphragm. Count to 7 slowly as you breathe in, and then release the breath, counting to 11 as you exhale. Feel yourself really blowing out the anxiety from your body. Repeat this exercise a few times until you feel better.
Humour is a great way of feeling better too. Watch a good comedy. Laughter really helps relieve stress and anxiety.
When you feel a negative thought, make a point of changing it to a positive one with a 'BUT, What if….'
Write in a journal when you are feeling stressed or anxious. Write about how it feels, what your fears are, where you feel the stress/anxiety.
Counselling is also very helpful for stress and anxiety. It offers a safe, non-judgmental place to talk about your fears, feelings and to be supported whilst you go through the court process. Please see our link below for our zoom counselling.
Above all, be proud of yourself that you are doing your best here and accept that you cannot control everything.
All best wishes, Debbie
About Debbie

Debbie is an experienced counsellor and advocate for children and adult's mental health.
Find out more about online counselling with Fegans
Our counselling sessions cost £48 (they are therapy not legal advice, for divorce and separation support please use our forum). If you would like to find our more information about our online counselling, provided by experienced and qualified counsellors leave your details below and Debbie will be in touch for an informal chat to talk through the process and the costs. We work with young people (aged 10 and over) and parents.