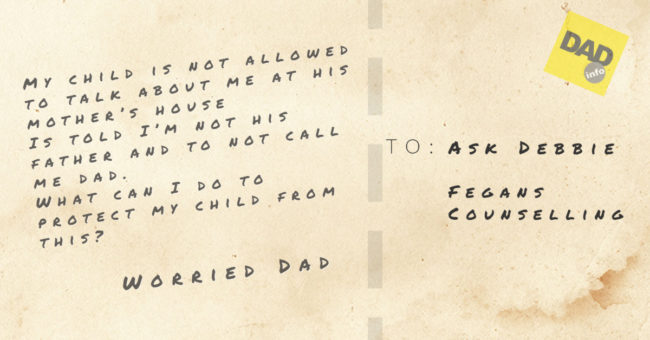 Dear Debbie
My Child is not allowed to talk about me at his mother's house and is told I'm not his dad. What can I do to protect my child from this?
Worried Dad.
Dear Dad,
I really feel for you. It is so painful to hear all of this and can make you feel like you've had your dignity swiped from you. Divorce and separation can often leave those involved feeling hostile and resentful and unfortunately this is not uncommon.
Don't retaliate
It is important here not to retaliate, no matter how tempting this may be. It is important for your child that you remain calm and don't involve your child in any of this.
Have a conversation with your child about what they heard and how it is wrong to say unkind things. Even if your feelings are hurt, try not to get defensive in front of your child.
Stay Calm
Gently explain to them in a calm manner that what they have heard is not true. Try not to feel that you have anything to prove here – you don't!
Telling your child the truth should be enough. Allow your child to ask you questions about this or anything else that is related, and do your utmost to answer them as honestly as you can. By taking this time to have these moments of honesty with them, should help them to better recognize truth compared to fiction in the future.
Can you talk to your ex?
I am wondering if you feel able to talk to your ex about this also. Try to have a calm, cordial conversation as you ask them to stop saying mean things about you to your child. If you don't feel comfortable talking to her face to face, I am wondering if you could send a request in writing.
I am wondering if counselling could help you here. We provide zoom online counselling, which can offer you a safe, confidential environment in which to explore your thoughts, feelings and emotions and receive some support for yourself, during this difficult time.
Please see the link below to find out more about this.
Very warm wishes
Debbie

Debbie is an experienced counsellor and advocates for children and adult's mental health.

To find out more about online counselling with Fegans leave your details below
Our counselling sessions cost £48 (they are therapy not legal advice, for divorce and separation support please use our forum). If you would like to find out more information about our online counselling, provided by experienced and qualified counsellors leave your details below and Debbie will be in touch for an informal chat to talk through the process and the costs. We work with young people (aged 10 and over) and parents.