Dads, do you struggle sometimes? Who do you reach out to for help? Debbie Pattison, a qualified counsellor at Fegans can answer your questions. Send them in to Ask Debbie at info@dad.info and if she can she will answer.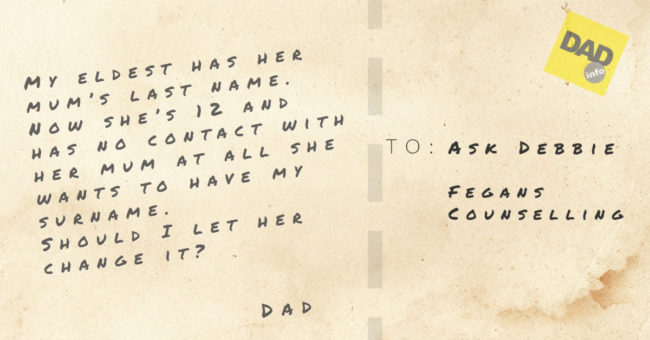 My eldest is from a previous relationship and has her mum's last name. Now she's 12 and has no contact with her mum at all she wants to have my surname. Should I let her change it?

Dad
Dear Dad
The legal side isn't my territory, but the consent of each person with parental responsibility is required in order to change the name of a child who is under the age of 16.
You have clearly been a great father to your daughter and that is to be commended.
I am wondering why she has no contact with her mother and how this has been for her? In my experience, although a child appears to be coping really well and does not seem particularly bothered by an absent parent, the thoughts, feelings and emotions surrounding this can appear at times.
Counselling can be very helpful to give her a safe, confidential place to explore her feelings and emotions around this.
Counselling
We offer zoom online counselling which can be arranged at a time and day to suit your daughter. Please see our zoom counselling link below. If you send me your name and phone number I am happy to call you and discuss this further.
All best wishes
Debbie

Debbie is an experienced counsellor and advocates for children and adults' mental health.
Find out more about online counselling with Fegans
Our counselling sessions cost £48 (they are therapy not legal advice, for divorce and separation support please use our forum). If you would like to find out more information about our online counselling, provided by experienced and qualified counsellors leave your details below and Debbie will be in touch for an informal chat to talk through the process and the costs. We work with young people (aged 10 and over) and parents.