Dads, do you struggle sometimes? Who do you reach out to for help?
Debbie Pattison, a qualified counsellor at Fegans can answer your questions. Send them in to Ask Debbie at info@dad.info and if she can she will answer. Today's question is from a dad shocked to find out he has a 14 year old son.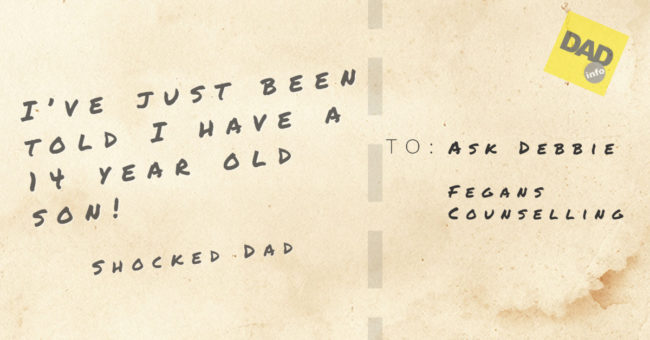 I have just been told I have a 14 year old son! I have no idea if this is true. What effect will this be having on the child?

Shocked Dad
Dear Dad
That must have been an incredible shock for you, and I would imagine that you are feeling a wide range of emotions right now; fear, confusion and maybe even anger all swirling around, mixed with surprise, happiness, and love. All these emotions are supercharged, which can make processing them even more difficult.
The first thing to do (even though this may feel uncomfortable), is to acknowledge your feelings.
This is a monumental life event.
I would imagine that you have lots of questions too:
How did this happen?
Why was I never told?
What has the child's life been like?
Does he have a good family?
Take a deep breath before you home in on your list of questions. Your child will have their own long list of questions too.
Take things slow.
This situation is already overwhelming for both of you. You will have time to find the answers you deserve. Don't try to figure it out immediately
Instead, take things one step at a time. There is plenty of time to process for both you and your child.
Try talking with other dads in our forum.
Once you have gathered yourself and processed this news, it would be a good idea to consider those closest to you. If you have a family, a partner, children or both, this new development will affect them almost as much as you.
Recognising how challenging this could be for them to learn to discover that someone close to you has a new, significant relationship to another person can be a lot to manage. Just like you need time to process the news, they may also need time to process this too.
Whilst this is ultimately your decision to make, it may be helpful to bring your partner and/or children into your decision of how to move forward. Listen to their input and make a choice together. Their support can make a world of difference to you.
You might benefit from our Parenting after Separation course.
There are a couple of paths this news could lead you down. It may be that your contact with your child is only a one-time event. After learning about the relationship both parties could decide it's best to keep living life how it was before. However, there is also a chance that you and your child could form a new relationship.
Your child may be reaching out to you with hopes of building a relationship or they may simply want to make contact. Additionally, your wishes matter in this situation, too.
Do you want a relationship with your child?
If you feel comfortable with ongoing conversations and this is what your child wants, then this surprise could be the start of a meaningful relationship. Take your time with all the questions you have and take your time building a relationship. It may feel as if you have a lifetime to catch up on, but bear in mind that you cannot fit all of that missed time into a few hours, days or even weeks. Relationships develop naturally. This relationship is a truly unique one and it will take time. It can become one of the important things in your life with effort, patience, and care.
I am wondering if counselling would be helpful for you. It would provide a safe, confidential place for you to explore all of this and receive support for yourself whilst you do this. Please see the link below for our zoom online counselling.
About Debbie

Debbie is an experienced counsellor and advocates for children and adult's mental health.
Find out more about online counselling with Fegans
Our counselling sessions cost £48 (they are therapy not legal advice, for divorce and separation support please use our forum). If you would like to find out more information about our online counselling, provided by experienced and qualified counsellors leave your details below and Debbie will be in touch for an informal chat to talk through the process and the costs. We work with young people (aged 10 and over) and parents.