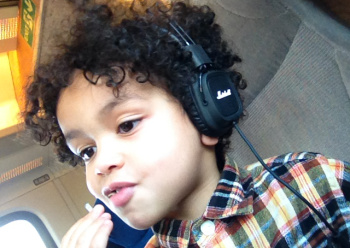 Adults who lost a parent as children often get in touch to reassure me that they got through it and that, for the most part, they now live happy and fulfilled lives. Some, however, say that they wish their surviving parent had been able to capture more memories of the one who died. A generation ago there was no such thing as the internet, camera film was expensive and non-digital photographs got lost.
There were also those who thought it kindest on the bereaved child to scrap all of the evidence of the deceased, thinking that it might somehow make the experience of loss less painful if their lives were all but erased. Personally, I can think of few things more heartbreaking.
I feel like I've been fortunate in how much of my wife's memory I have been able to preserve for my son. Social media has documented her story and personality; thousands of photographs and films taken on cameras, phones and camcorders captured her image, voice and love for life; letters and cards she wrote show her humour and warmth. I've come to realise how blessed I am to be able to stimulate my son's memories of the mother – who was taken far too soon – in so many different ways.
Naturally I'm devastated when I think of how much my son has lost, but that overwhelming pain makes me determined to do everything in my power to provide him with the stimulus he might need to feel a long term connection with Desreen. I've got no idea which of his senses will be the most evocative, though. Having written a book for him, it suddenly dawned on me that he might not care much for reading; music might be his thing, I thought. And then it occurred to me that I could fuse the two by creating a soundtrack of sorts.
This playlist includes songs that mean a lot to me. The first and last track opened and closed Desreen's funeral. The last was also the first dance at our beautiful wedding. We didn't choose it until the morning of our big day and until then we had something else in mind entirely. By complete chance we were both listening to the same radio station at the same time and simultaneously sent each other a text message to say we had to make this song ours. At the time we both thought it was about falling in love, but after Desreen was killed I discovered that it's actually about dying and meeting God. Although devastating, it still makes me smile that our marriage began and ended with house music – I can think of nothing more appropriate for my good time girl.
All of the songs in between have varying degrees of significance, and each captures feelings and experiences covered in my book. I toyed with the idea of writing the stories behind each but, at best, I think music is personal and poignant. I would rather think of the songs meaning something to the reader and listener than just to me, so I've just included a few of the lyrics that I find the most stirring. You'll need to be signed up to Spotify to listen to the playlist.
No One, Alicia Keys
'When the rain is pouring down and my heart is hurting, you will always be around – this I know for certain.'
Here With Me, The Killers
'Don't want your picture on my cell phone; I want you here with me. Don't want your memory 
in my head, now; I want you here with me.'
Better Man, Paolo Nutini
'She makes me smile;
 she thinks the way I think.
 That girl makes me want to be better.'
The Writer, Ellie Goulding
'Why don't you be the writer and decide the words I say?
 'Cause I'd rather pretend 
I'll still be there at the end, only it's too hard to ask.
 Won't you try to help me?'
This Woman's Work, Maxwell
'Pray God you can cope. I'll stand outside. This woman's work, this woman's world; oh, it's hard on the man now his part is over. Now starts the craft of the Father.'
Sometimes It Snows In April, Prince
'Sometimes it snows in April; sometimes I feel so bad. Sometimes, sometimes, I wish that life was never ending. And all good things, they say, never last.'
Beautiful Boy, Ben Harper
'I can hardly wait to see you come of age, but I guess we'll both just have to be patient. 'Cause it's a long way to go and a hard row to hoe. But in the meantime, before you cross the street take my hand. Life is what happens to you while you're busy making other plans.'
Finally, Kings of Tomorrow
'Where do we go from here? Time ain't nothing but time. I now have no fear of my fears 
and no more tears to cry. Tomorrow means nothing at all.'
This is syndicated content from Life as a widower.
Content reproduced with the kind permission of Benjamin Brooks-Dutton
The views expressed in this blog are solely those of the blogger and do not necessarily represent the views of Dad.info.