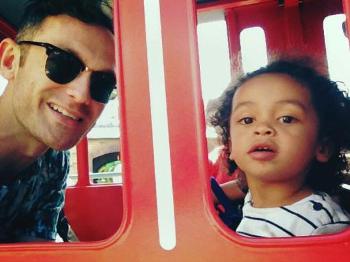 It's Father's Day. For those of us who are lucky enough to actually have a father, it's probably a time to send a card, pick up the phone or make a visit to show we care. For those who haven't it might either be a time for reflection or a time to avoid the TV, restaurants, pubs, card shops or any other outlets that inadvertently make us feel worse than we already do by treating us all as if we're the same.
I'm one of the lucky ones. I have a father and a father-in-law and I am a father too, so I'm hoping today will be a happy and grateful day for me.
However positive I try to be, though, it's been hard not think about how strange it will be to receive neither a card containing handwriting that looks suspiciously more like my wife's than my son's. Nor a gift that I know he can't yet afford because he has no access to any savings until he's 18. So I thought, 'Sod it! I'll buy myself something from his account.' Thanks for my new chair, Jackson! Your taste is impeccable.
Seriously though, today is not about material things for me. It's not about him behaving any more lovingly towards me than he already does. It's not about cards, gifts, grand gestures or breakfast in bed. For me it's about being the one who's lucky enough to be able to spend another day with my son. For me today's a day when I will thank my lucky stars that my beautiful wife made me a dad to such a wonderful child.
This is syndicated content from Life as a widower
Content reproduced with the kind permission of Benjamin Brooks-Dutton