Cafcass looks after the interests of children involved in family court proceedings. Officers advise the courts on what they consider to be in the best interests of individual children.
Cafcass stands for Children and Family Court Advisory Support Service.
Cafcass is independent of the courts, social services, education and health authorities and all similar agencies. The main types of cases in which the courts ask Cafcass to help are when:
Parents or carers are separating or divorcing and have not reached agreement about arrangements for their children (but only in cases where the Court is specifically concerned about the welfare of the children – down to the Judges' or Magistrates' discretion).
Social services have become involved and have asked the Court for an order to temporarily remove children from their parents' care for their safety.
Children could be adopted.
A Cafcass officer can only get involved with your family when they have been ordered by the Court. Their role can be general or specific, depending on what it says in the Court Order.
The role of the Cafcass Officer is to look after the best interest of the child. It's important to remember that they are not the enemy and a judge will take their report very seriously. However remember that in law a child has the right to have contact with its family (that's you) unless there are specific questions around the child's safety. The law therefore is working towards that right.
What should you do if a Cafcass officer is coming to observe you spending time with your child?
Be mindful that the Cafcass officer is there for the interest of your child and as a parent you should consider that a positive thing as the best interest of your child should be paramount.
Be natural, be yourself. The Officer will know if you are acting differently from normal visits, they are professionals.
Be on time – this is more about respecting your child than anything else but it's these small things that show how considerate a parent you are.
Be respectful – remember that all the professionals are there to help – also be respectful of the child's mother as far as you can regardless of how you feel about her. This will be noted.
Don't be defensive – again if you go in fighting your corner regardless of how much you hurt or how unsupported you feel that will come across aggressively – try to communicate how you feel about the situation verbally in a positive manner at the appropriate time.
Don't use the time to talk to the officer or anyone else, just use the time for your child/ren. You will get the opportunity to be interviewed by the Cafcass officer but make the most of the time you have with your child/ren.
Be prepared – depending on the age of your children, take along appropriate supplies (e.g. nappies, wipes, food & healthy snacks) and think about the kind of interaction you can have with them. Bring along games to play e.g. building blocks for younger children, a board game for older children etc. Demonstrate that you are thinking about the child's needs & want to spend fun time with them. Your Cafcass Officer will notice how prepared you are to spend time with your child/ren.
Try to be patient – it can take up to four months for Cafcass to complete their report. During this time they will be doing basic checks with your child's GP, school or nursery, health visitor etc. They will also contact the police, social services and probation for any past or present records. It is frustrating waiting for the report, but there is nothing you can do to speed up the process but be patient.
Finally, relax and have some fun time with your children, YOU are the ONLY paternal dad they will ever have.

For more information about Cafcass go to: www.cafcass.gov.uk
About the author
Clare Kirby qualified as a lawyer in 1983 and worked for several years in industry. She founded Kirby & Co in 1997. As a member of Resolution and an advanced member of the Law Society's Family Law Panel she is experienced and respected in the field of family law. Trained as a collaborative lawyer, Clare offers clients a range of options – traditional, and collaborative law – to best meet the needs of the individual clients.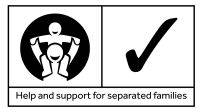 Updated: September 2017