The Family Law specialists Woolley & Co have produced a new guide, entitled: 'Parenthood and the Law: The Facts' and is available as a downloadable PDF guide explaining clearly and in-depth everything you need to know about Parental Rights as well as demystifying parents responsibilities.
There are a number of myths and assumptions regarding Parental Rights and the following guide highlights facts that are useful to know, especially for single parents and couples who separate before or after the birth of their child.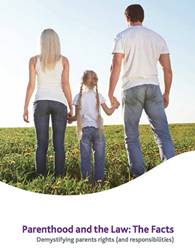 Parental responsibility isn't as straightforward as it sounds and the guide breaks down the question 'What is parental responsibility?' to identify the key roles.
With handy information for unmarried fathers, applying for Parental Responsibility, divorce or separation advice, Parental Responsibility & Child Maintenance and even a word about Grandparents, this guide covers it all.
Please click on the image opposite to download this important Guide.
For more information contact: Woolley & Co – www.family-lawfirm.co.uk