Dads, do you struggle sometimes? Who do you reach out to for help? Debbie Pattison, a qualified counsellor at Fegans can answer your questions. Send them in to Ask Debbie at info@dad.info and if she can she will answer. Today's question is from a dad who shares care of his children equally with his ex.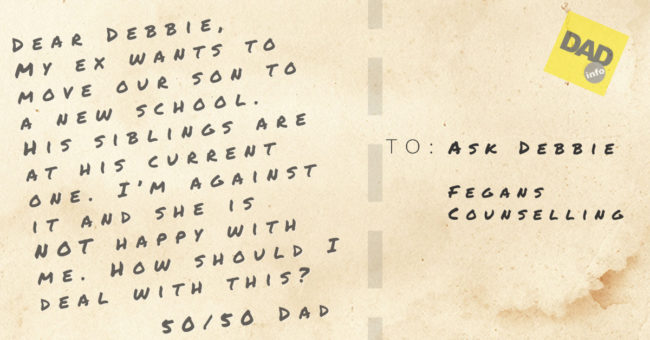 I am a dad with 50/50 shared care arrangements ordered by Court. My ex-partner wants to move our son to a different school where all his friends go, but he has siblings in his current school. I said it will be too difficult for me to pick them up at the same time. She is not happy with my answer. I don't know how to deal with this situation with her.

50/50 Dad
Dear Dad,
My first thought here was what your son would like to do? Is he the one who is asking to go to a different school where his friends are?
Secondly I feel that it would be helpful for you to talk to your son about this and find out more information. Is he unhappy at the school he currently goes to?
Lastly I am wondering if you can speak to the two schools concerned here and find out if you can come to an arrangement whereby you can pick your son up from his school after you have picked up his siblings.
There may also be another parent who would be able to pick up your son and wait for you to arrive after picking up the other children. Lots of possibilities to explore here.
With regards to speaking to your ex-partner try to remain calm and patient. I know that that can be difficult at times, especially when your feelings are dismissed. It sounds like she has made up her mind and isn't interested in the difficulty that this causes you. Exploring all of your options here is the key to resolving this difficult situation I feel.
All best wishes, Debbie
About Debbie

Debbie is an experienced counsellor and advocate for children and adult's mental health.
Find out more about online counselling with Fegans
Our counselling sessions cost £48 (they are therapy not legal advice, for divorce and separation support please use our forum). If you would like to find our more information about our online counselling, provided by experienced and qualified counsellors leave your details below and Debbie will be in touch for an informal chat to talk through the process and the costs. We work with young people (aged 10 and over) and parents.