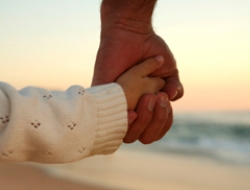 MR ORANGE'S STORY
Mr Orange shares his experience of being a full time carer for his disabled daughter:
As a full time carer, I have spent the last two years with our disabled girl, M. In addition to her wonderful smile she had epilepsy, visual impairment and developmental delays. She would have been three this year.
Rather than feeling stuck at home, I searched for a special needs coffee morning within 10 miles. When I first started I was struck by how often I was the only man there, although over the weeks two more joined in. This helped me enjoy the time more because we talk differently and on different subjects than ladies. I was thus able to talk beyond the weather / our child etc and chat through difficulties, e.g. where to go to sort out a specific problem (education, getting syringes, benefits).
We benefited from Team Around the Child meetings to bring more than a dozen professionals together – from PCT, teachers, hospice and key-worker – to clarify the picture they had and thus coordinate any actions coming up for our little one.
Over the weeks M's key-worker regularly assisted and chased things for us, many times going above and beyond what was expected of her (challenging petty decisions, promoting M's best interest above bureaucracy). There were times when different council departments were unable to act together quickly or with the same clarity of purpose which was hugely frustrating.
At home I found it really helpful to treat visiting professionals as 'family' because they saw us as we were most weeks (un-vacuumed, toys and equipment everywhere, in the middle of nappy changes, or cry-screaming from epilepsy).
Through a strong working relationship I was able to accept advice/direction/correction without taking it personally – this meant that I got a 'better service' as mutual trust grew – but the professional had to take the risk of being direct when I didn't take gentle hints!
Some days I had the distorted view that my wife was letting me get on with our little one and the chores. At times it was hard working as a 'team', each with a different approach to caring at home and when there were periods of one person needing 'space' while the other held the fort. I found myself shunning one chore until eventually she took it up.
In the midst of the health roller-coaster it was hard to push through obstacles such as fighting the local authority to get our preferred nursery placement. Although after a few days of our little girl being distressed by seizures, education some months off seemed irrelevant. But to take no action would mean getting stuck with the authority's 'good enough' nursery – it would have helped if someone could have drafted a decent business case to act as the voice of the child at the education panel. At that time of stress it was exhausting finding the inner resources to express our hopes and concerns in a professional way.
Coming to terms with a life limiting condition was something I found hard. It had no time-scale on it but the idea felt very final. I found explaining health changes to each professional between their visits was double edged: mostly positive to talk through my concerns and report observations; but occasionally seeming to make the conditions bigger than the little girl I knew M to be. I valued the genuine care M's key-worker had for her, able to see the nuances of new skills or variation in a condition.
Sadly M died in Summer 2009 a few days after going to hospital. We are left with new skills and rich memories. I'm grateful to have faced some of my prejudices and fears around disabilities. I greatly value the trust M gave so generously. It's been a privilege to have spent time discovering how to interact and let M lead me in her learning.
If you would like to share your own experience of 'Being Dad' or talk to other dads, remember the Dad Info Forum is there for you!
Their mission is to: work in partnership with disabled children, their families and professionals, to ensure that all families throughout the UK have access to high quality care co-ordination or key worker services.
Find our more: http://www.ccnuk.org.uk/
Updated: Oct 2017