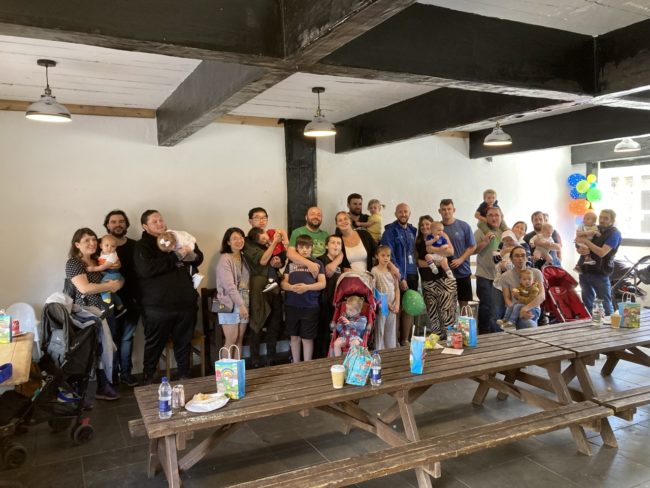 Baby groups aren't natural territory for dads, so when we heard about the work Everton Football Club is doing our ears pricked up. Andrew Cousins spends his days chatting with new dads as the Starting Well Coordinator at the club.
Andrew is passionate about helping dads.
'I think that dads find themselves in a new role that they may not be prepared for,' he says. 'Not so long-ago dads would have gone to work and been the sole provider for the family while mum stayed at home to raise the children. Now both parents must work to afford to live, dads must also help raise a child.'
The stats back him up. During lockdown an Office of National Statistics survey found that dads were doing 58% more childcare than they usually would. It is a trend that is growing.
Those first 1001 days are critical for a baby.
They might not remember the early days, but what happens right at the beginning of a child's life shapes them. The first 1001 days of a child's life- including time in the womb- significantly sets the foundations of a child's wellbeing. Therefore, it is vitally important that dads are given support.
Where are all the dads?
However, Andrew's experiences with dads reveals a challenge. 'They want to be involved but, in their head, there is a voice saying, 'this isn't my job'. Society still sees raising children as the woman's role and the dads can feel they just get information second hand off of mum,' he explains. 'Once they come along to stuff and start making mates, they keep coming.'
But finding the dads in the first place isn't easy.
'Dads are the hardest ones to get to come along to anything. Where new mums tend to attend the weigh-ins, and the children's centres, dads are more difficult to reach,' he says.
So, Andrew goes and tells mums about what he is doing and asks them to invite their partners. He also works with dads who have sick babies in NICU.
All this hard work is paying off in Liverpool as Andrew now runs monthly dad classes, dads' walking groups and dad-led stay and play groups.
There are huge benefits for the dads involved.
'When we are having our talks walking around, we talk a lot about mental health. The biggest revelation is that dads can end up with post-natal depression. Once they hear about the symptoms men present, a couple of them realise they might have had it,' he says.
What's next?
All sorts of dads attend sessions. 'One dad we worked with comes to every session. He moved to Liverpool with no family and his daughter was born. For him, it's being able to get some people he knows,' Andrew says. 'With no family, you get no respite, it has been a really hard time, stuck in a house in a city you don't know with a little baby left him really struggling. He loves his kid but is struggling with the bond. It has been beneficial for him to meet other dads talk about his mental health, and just knowing it is okay to feel this way.'
Symptoms of post-natal depression in dads
Thankfully, acceptance and knowledge that dads suffer from PND is becoming more widespread, but there is still a long way to go. Fathers may not even be aware that what they are experiencing is PND.
'Symptoms in men are completely different, including overworking, staying away from the family, gambling, and drinking,' Andrew explains. He isn't quoting a textbook here but speaking from hard-won experience: 'I'm an adoptive father, and I started putting on weight and going on betting sites much more after adopting my children.'
Empowering dads
Andrew wants to continue helping dads become confident fathers: 'I am hoping our dads' walking group will change into a peer support group. Just like when a mum goes to a stay and play, and a mum with an older child shares her thoughts on teething. I want our groups to be empowering for dads- dads sharing information with each other. Dads' role is different to mums' role, and it is important that dads can talk with each other about parenting techniques.
'My partner always said she was primed to be a mum, because her mum and her nan told her how to do it. But as a man, you are not told. Growing up you aren't told, it isn't drilled into you. Having other dads about is great for them to learn from each other.'
About Andrew Cousins
Andrew is an adoptive father to two sons, aged 5 and 2.5. He works for Everton FC and the Starting Well programme is focused on working with expectant fathers and fathers of 2 and under. The classes and groups we will help prepare new dads for the most important job they will ever have.
If you're interested in getting in touch with the Starting Well programme, click here. At present it is only available to residents of Liverpool.
For more information on Everton FC Starting Well, click here.