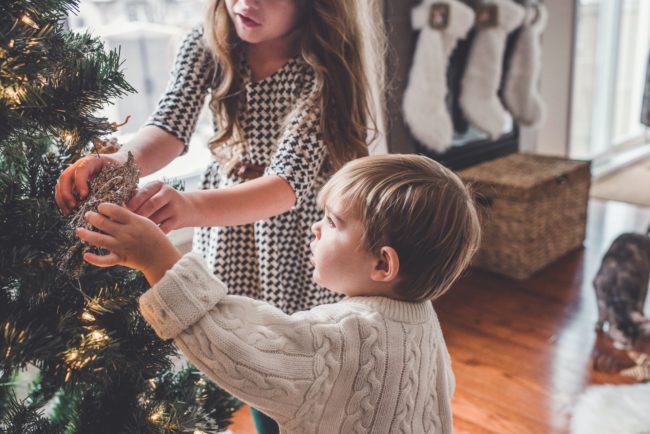 There's only a couple of weeks left until Christmas and children everywhere are brimming with excitement. Here are some great, easy ideas of ways to channel that excitement into fun activities that you can all do together.
Christmas scavenger hunt
Write a list with tick boxes of things for the kids to look for, give the kids a pencil each and set off on a walk to try and spot everything on the list. You could include coloured Christmas lights, a wreath, candy canes, a Christmas tree in a window or reindeer decorations. When they've ticked off everything on their lists the kids can receive a prize, such as a little chocolate Santa.
The Catch Santa In My House! app
This fabulous app lets you superimpose a very realistic-looking Santa in one of your photos. On Christmas Eve when the kids are in bed, you can take a photo of your living room, add Santa and show it to them in the morning- they won't believe their eyes!
Build and decorate a gingerbread house
You can now buy ready-baked gingerbread house sets, so that all you need to do with the kids is stick the panels together with the icing included in the pack, and decorate it with sweets. If it doesn't turn out looking like on the box, who cares? It still tastes great and the kids will love making it.
Movie night with duvets and special snacks
At dusk get the kids into their pyjamas, bring their duvets and teddies downstairs, and get snuggled up for a movie. Turn off the lights, close the curtains and offer some special movie treats such as hot chocolate with marshmallows, pick n' mix or even candyfloss. You can get your own candyfloss machine here for endless child-pleasing fun.
Play guess who
The cheapest, simplest game ever. Write down some Christmas- themed characters on sticky notes, such as Rudolph or Frosty the Snowman, and stick one on your child's forehead. They must then ask questions to figure out who they are.
Pass the parcel (the Christmas version)
Prepare a playlist on Youtube or Spotify of fun Christmas songs (Rockin' Around the Christmas Tree by Brenda Lee is always a crowd-pleaser) and wrap up a couple of little stocking fillers in several layers of wrapping paper (with a few little sweets in some layers). Make sure you tactically stop the music so that the kids get even turns at opening a layer!
Draw snowmen with your eyes shut
The challenge: be blindfolded, armed with a pen and paper and draw the best snowman you (and they) can in 2 minutes.
Pin the nose on Rudolph
Draw a simple reindeer outline, and pin it up. Blindfold the kids one by one and let them stick the 'nose' (a red circle of paper) in what they think is the nearest place.
Go for a walk to find the best local Christmas decorations
An annual tradition in our house. Take the kids out for a fun wander around the local area to spot the best Christmas decorations. Categories include the best Christmas tree, best front garden decorations and best lit-up house.