by Tom Kreffer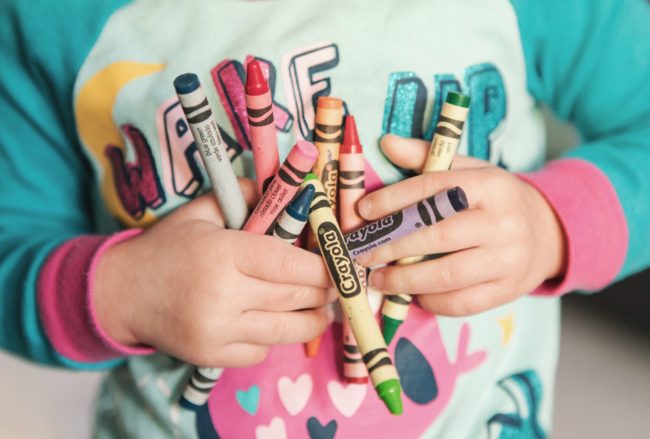 I can't remember the last time life gave me the time and space to ease myself into the day gently. Instead, my alarm clock goes off at 6:30 a.m. every morning. Sometimes earlier but rarely later.
My toddler is my alarm clock, and when he's ready to begin the day, it's usually at a pace of life four times faster than mine.
Recently he was sick, and he woke up eight times in the night. That's more than when he was a newborn. That was a tough twenty-four hours.
The guilt, the guilt…
Saying no to my toddler when he wants to play is, for me, the most emotionally crippling aspect of parenthood. I get this lethal strain of guilt that seeps into my bones, suffusing the marrow and turning it to acid. The guilt burns.
And it's not the banging on the door of my office that gets me, although, full disclaimer, it doesn't help. It's the look on his face: a combination of abandonment and confusion that says, 'Daddy, why are you leaving me? Why aren't we playing?'
And the guilt lingers, like a ball and chain tethered to my ankle, reminding me of my paternal crime, questioning whether I deserve to be a parent.
I do deserve to be a parent, of course. I just don't get to feel good about myself as a parent all the time. It's the gig I've signed up for, and I wouldn't change it for the world.
Dads miss out sometimes
Often, he's not banging on the door but running around shrieking with joy, all because of some silly game he's playing with his mother. I hear them, and I welcome another strain of guilt: jealousy. Because I'd like nothing more than to join them.
But I can't.
I'm the primary generator of income for our household, and unless I want to risk that ceasing to be the case, I'd better put in the work and do what I'm paid to do.
At two and a half years old, my toddler doesn't understand that I have to be away sometimes. He's ignorant of the way the world works.
But then I wonder if I'm the ignorant one.
After all, when I'm in the moment with him, absorbed in what we're doing and fully present, I feel more alive than when I'm doing anything else – there's this pulsing feeling of contentment. It's not warm as such, but it's pleasant.
I suspect my body is releasing serotonin into my bloodstream – a feel-good substance to reflect the moment I'm in, attending a tea party with my toddler and his soft-toy monkey. The monkey's name is Louie, by the way.
The time zips by
It's that well-known cliché that every parent knows and comments on: 'It goes so fast,' we all say. Before I became a parent, my parent-friends would tell me how quickly infants develop. I'd nod in understanding. Because I did understand.
But then I became a parent. And then I really understood. And I didn't like it.
It's a cruel irony that when you're woken up multiple times a night, the hourglass shifts sand as quickly as cement sets.
But when you're in those moments, building forts and hiding from baddies, then the sand falls faster than the eye can see – as if each grain is magnetically drawn to the planet's surface. The pull is stronger than gravity.
I try and focus on the variables in my life that I can control, but I fail in this endeavour when reconciling myself to the speed at which my son is growing up. I know this makes the connection we share as father and son all the more precious, but I still hate it.
The blessing of being a dad
Children are deeply fascinating creatures, especially toddlers. I've always believed that being part of that process, being a parent, is an honour – a sacred privilege.
Can you think of a more honour-bound commitment than raising a child? I can't. But it's rarely easy.
And those times when I have to be somewhere else and I can't bring my toddler along: that's when I feel the guilt, my heart and soul, wrenched apart.
But then I return, and I tell him I can play. His reaction repairs my heart and soul, making them both stronger than ever, and my appreciation for what I have is refuelled and recharged, ready to propel me to the next moment.
I love being a dad.
About Tom
Since March 16, 2019, I've written to my son. The practice has led to a writing career. I write non-fiction parenting memoirs that tell the story from a dad's perspective. I call them the Adventures in Dadding Series.
My first book was about pregnancy (Dear Dory: Journal of a Soon-to-be First-time Dad), my second was about the first year of parenthood (Dear Arlo: Adventures in Dadding), and my new book, Toddler Inc., covers the second year.