The Young Imagineers 2018 competition is proof that with a little bit of inspiration and encouragement, kids can come up with amazing and innovative inventions that most of us could never have dreamed of…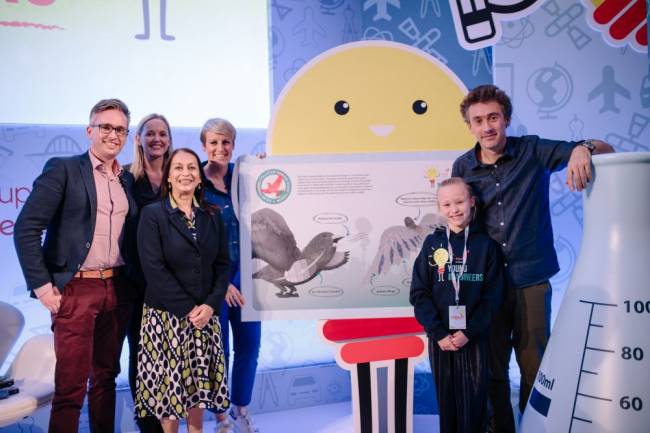 Equinor has announced 11-year-old Millie from London as the winner of the 2018 Young Imagineers competition in partnership with the Science Museum, following their quest to find Britain's most imaginative and creative young people. The competition aimed to inspire children to bring fun and creativity to Science, Technology, Engineering and Maths (STEM).
Young Imagineers invited young people aged 7-14 to create an innovative idea to tackle a modern-day challenge. Millie designed a Solar Power Pollution Sucking Robot Pigeon which would extract pollutants from the air while being friendly to other birds.
Millie said: "When I go to see my grandparents in Suffolk and Denmark, I always think the air smells so much cleaner. I live in London and there are so many pigeons that I came up with the idea of the Solar Powered Pollution Sucking Robot Pigeon so that we could extract the pollutants from the air without disturbing the other birds in London. I want my invention to help make the air cleaner in London and the world, so we can help improve people's health."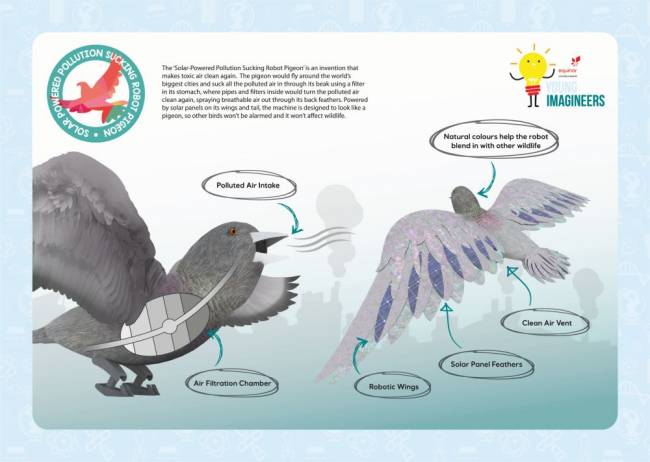 This year's winner was revealed during a fun-packed day at the Science Museum, where the ten finalists, selected from nearly 1,200 submissions, presented their inventions to the Young Imagineers expert panel and a live audience.
Millie will now have her invention brought to life and displayed outside Wonderlab: The Equinor Gallery at the Science Museum, where it will be seen by thousands of museum visitors.

The young inventor will also be awarded an honorary position as Children's Inspiration Officer at the museum for a day – where she will enjoy a bespoke-designed experience day. All finalists received an annual pass to Wonderlab: The Equinor Gallery for their families. All runners-up received a range of Young Imagineers' gifts.
The competition received a record number of entries with nearly 1,200 exceptionally creative inventions submitted from across the UK. After careful deliberation, the organisers selected the ten finalists earlier this month. The winner was then chosen by the expert panel comprised of Jill Tully, Lopa Patel, Steph McGovern, Dallas Campbell and Barry Fitzgerald.
Jill Tully, Investment Manager at Equinor Energy Ventures, said: "Having Equinor and the Science Museum bring to life Millie's winning invention is a wonderful way of showing children that their ideas and dreams are within reach and can be turned into reality. This process has left me extremely encouraged about future generation's potential to make the world a better place through new achievements in STEM."
BBC Presenter Steph McGovern, said: "Children have the most wonderful imaginations and when given a chance to explore and express themselves they can blow you away with their ideas, which are always packed full of science. The Young Imagineers 2018 competition is proof that with a little bit of inspiration and encouragement, kids can come up with amazing and innovative inventions that most of us could never have dreamed of!"
Lopa Patel, Trustee of the Science Museum Group said: "I am amazed by the quality that these children have displayed with their creative entries. It is exactly what we need for a bright future under the leadership of the new generation."
Research Scientist and superhero scientist, Barry Fitzgerald, said: "A massive well done to Millie and to all participants! The quality of the entries was phenomenally high; I'm very pleased to see Young Imagineers succeeding in getting future generations excited about the possibilities that STEM has to offer."
How do you encourage your little one's creativity? Comment below to inspire other dads…