Ok, so there is actually only a chance of winning some cold hard cash but why not complete this survey anyway.
Dad.info has teamed up with Bright Horizons to help us understand how lockdown has impacted families. Sometimes these surveys miss out on the opinion of Dads (as we aren't well known for loving a form!) so if you possibly can, grab a coffee and take some time to fill this out. Go on… do it now!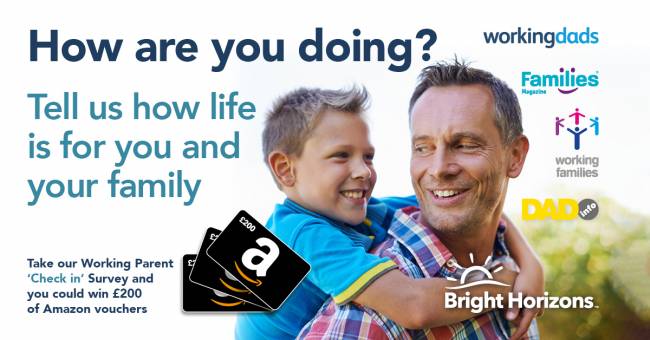 CLICK HERE TO COMPLETE THE SURVEY
Whatever you situation we want to know maybe you were commuting and are now remote-working we want to know how that is working for your family?
If you are a key worker what stresses have you experienced?
If you are on furlough, or have been made redundant how has that challenged family life.
Parents are experiencing unique challenges and new needs in these uncertain times, please help us make sure that Dads' views are heard by sharing your experiences.
You might find the survey helps crystallise your thoughts about work+family now, and in the future. The survey is multiple choice so it's quick and easy to answer the questions, but if you want to, you can tell us more. Upon completing the survey, if you live in the UK, you can opt to enter into a prize draw to win £200 worth of Amazon vouchers.
We'll be publishing our findings in a few weeks and we'll share 'good ideas' and 'what everyone else is doing' – anonymously of course – with parents.