The parents of a toddler who received a life-saving heart transplant are preparing for a Christmas they "never thought" they would have with their son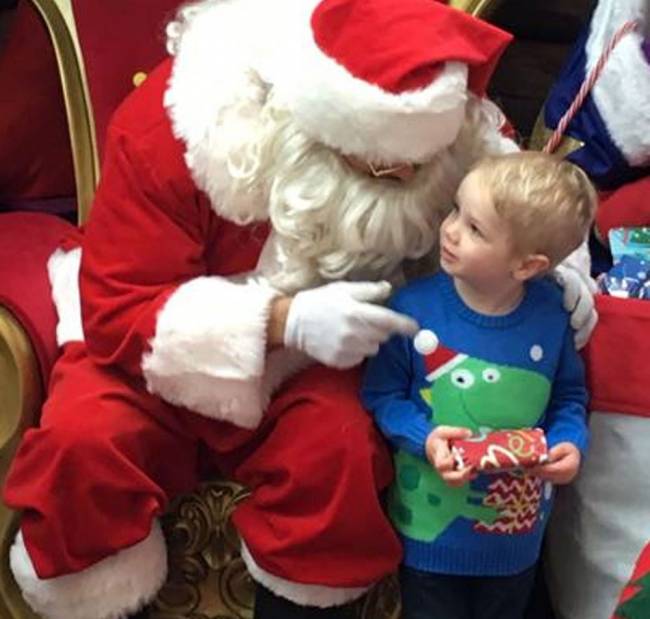 Elliott Livingstone survived using a mechanical heart for more than a year before receiving the transplant. The three-year-old had spent most of his life in hospital before the operation in April.
Now his family are embracing the festive season, with their little boy meeting Santa Claus for the first time.
On Elliott's Facebook page – which is run by his family – a post reads: "Thanks to an organ donor, I got to meet Santa today.
"One thing our transplant journey has taught me, it's to embrace an opportunity whenever it arrives.
"We never thought we would get this chance.
"Organ donation has allowed us an extra Christmas, potentially Elliott's first Christmas at home.
"For this we will always be grateful.
"When asked what he wanted, he simply replied 'bus'. It's easy to overlook the simple pleasures of life sometimes."
Elliott used a "Berlin Heart" device longer than any other child patient in the UK while he was waiting for a new heart.
His parents, Candace and Adrian, from Hampshire, have backed NHS Blood and Transplant's (NHSBT) Christmas campaign to get more people to sign up to the organ donor register.
Figures from NHSBT show that across the UK, there are more than 6,500 people, including 150 children, waiting for a replacement organ.
In the past 12 months, 463 people have died waiting for a transplant. In the past five years, 2,714 people have died on the waiting list, NHSBT said.
A poll of the British public revealed that four-fifths (81%) are in favour of organ donation.
But only a third of people in the UK have joined the NHS Organ Donor Register.
The survey found that of those who said they were willing to donate but had not joined the organ donor register, 35% said they "had not got around to it yet".
Sally Johnson, NHSBT's director of organ donation and transplantation, said: "It's a terrible shame that so many people who want to save lives through organ donation have not taken the next, simple step to register that decision.
"We all have busy lives, yet most of us would admit that we still find ourselves whiling time away and delaying doing important things.
"Signing up to the NHS Organ Donor Register is one thing we know people often just haven't got around to doing.
"This Christmas, we are asking everyone who supports organ donation to take just a few minutes of their time online to show that support by joining the NHS Organ Donor Register."
Mr Livingstone said: "Thanks to an organ donor, this year we are looking forward to a Christmas we never thought we would have the chance to have. For this, we will always be grateful."
:: To find out more or to sign up to the register, visit www.organdonation.nhs.uk