Olympic runner Mo Farah says he won his third 10,000m on Saturday night for his daughters, and wants to win the upcoming 5,000m for his little boy
Mo Farah has said his historic Olympic performance in Rio was inspired by the love of his children.
Back in full swing, after his triumph at London's 2012 Olympics, Mo didn't disappoint in Rio.
After his exhilarating race, an exhausted Mo said, "I've won an Olympic gold for three of my children. Now I'd like to win the 5,000m gold for my little boy."
The 33-year-old will race for an amazing fourth title, starting in the heats on Wednesday, with the final set for Sunday evening.
Spurred on by his 10-month-old son Mo Junior, 3-year-old twin daughters Amani and Aisha, and 10- year-old stepdaughter Rhianna, it was a promise to Rhianna that helped him cross the line.
The athlete assured his stepdaughter that "daddy would bring back a medal," and with her and wife Tania watching, he kept his promise.
After the dramatic race which saw him recovering from a fall, Mo said "I told her I was going to get her a medal and I just kept on thinking about that, I did not want to let her down, I did not want to let my country down."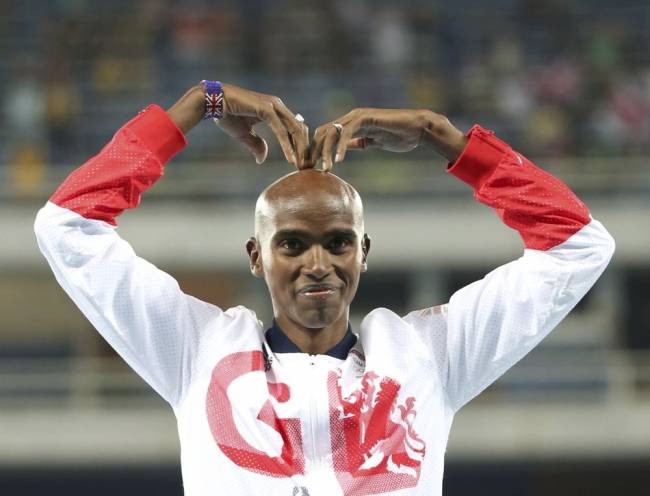 He certainly didn't do that: the sports star managed to do his trademark 'Mo-bot' sign after crossing the line and breaking down into tears of relief.
He later explained that it was the thought of having to tell his daughter he had lost that carried him. "That is why I was quite emotional at the end because it almost went," he said.
It's not just Mo who has had a good run in Rio; recent father Andy Murray became the first tennis player to win two Olympic singles titles and Justin Rose is the first British golfer to win gold since 1904.
And there was double success for Max Whitlock. After winning gold for the men's floor category, the gymnast went on to pip teammate Louis Smith to the post in the men's pommel horse, winning his second gold of the day.
Yesterday Britain won five golds on their best day ever at an overseas Olympics. Team GB have collected 38 medals overall.