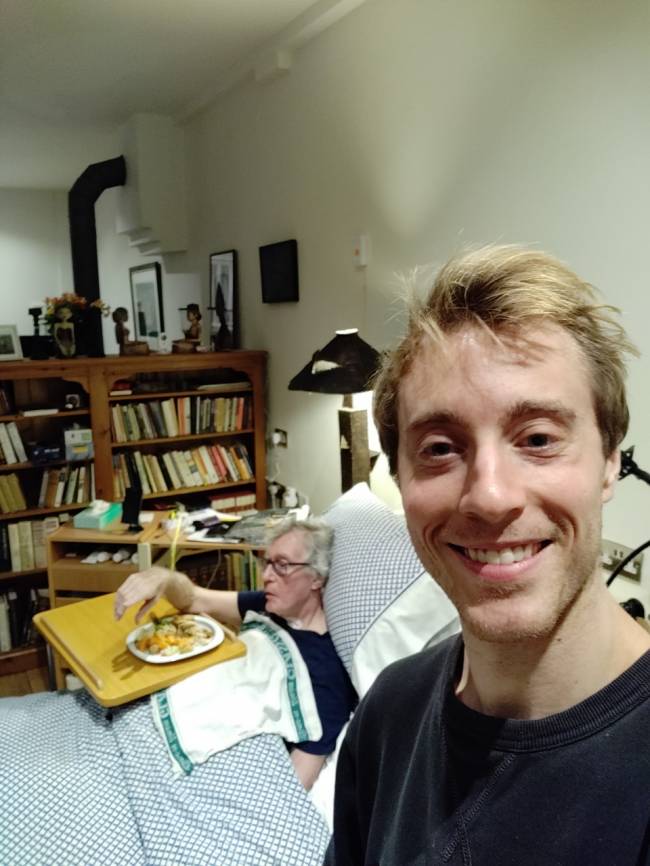 Two brothers whose father spent 306 days critically ill in hospital battling Covid have launched a scheme to get other recovering patients free access to audiobooks.
Fighting Covid
Alex and Nicky Woolf's dad Geoff had no underlying conditions and was healthy before catching Covid. 'That was one of the most shocking things,' said Alex. 'He was really fit. He went to the gym every day, he ate well, had never smoked in his life… he was active.'
The brothers had to endure months of uncertainty over their father's health and recovery. Geoff was placed on a ventilator in a medically induced coma and suffered a stroke. The family were unable to visit Geoff at all until the point at which they were asked to come in and say goodbye.
'His body recovered from the Covid but he hadn't woken up. They said he is probably never going to wake up, and it was time to say goodbye,' recalled Alex. 'We went in and Nicky asked for a second EEG on the brain, which they did out of kindness to him as he was clearly in denial. And then that EEG had a little spike which was enough medically to say okay lets see what happens with this.'
After two weeks Geoff opened his eyes, and began to communicate; blinking, nodding his head and recognising his family. 'And that has been a slow improvement to where he is now,' said Alex. 'He is profoundly disabled and paralysed down one side, and his speech is very difficult, but his personality is still very much there, the light in his eyes. He is one of those men who has always had a very twinkly eye. He's there. And that's pretty extraordinary.'
A Continuing Battle
Geoff's recovery will be a challenging time for the family. 'It will be a really long road and we don't know where that road will go. It's not likely that he will ever recover from the right-side paralysis very much. We just don't know. The brain is so plastic and there are extraordinary stories of stroke recovery, and there are stories of those who recover a little bit and then plateau.' The brothers continue to help support their father alongside carers, with Nicky living in the flat next door to Geoff.
Alex and Nicky differed in their ways of coping with their dad's health problems. 'We are quite different emotional processors', said Nicky. 'I am quite emotionally expressive and a fan of a big cry, Nicky is less so. Coping just looks like getting through the day and letting out emotion where you feel able. It took its toll. And the thing is, it's still happening. It's not yet at the point where either of us are fully processing what's happened. The project helped a lot.'
Books for Dad
As an actor who narrates audiobooks, Alex set about recording himself reading a book for his dad to listen to while on the ventilator.
'I wanted to record something for the doctors to put in his ears in case any of it could get into the unconscious mind,' explained Alex. 'He always said Pride and Prejudice would be one of his comfort novels if he was in a long hospital stay. So I started recording it up to about 6 chapters, and sent them to his phone, with the idea of getting the doctors to play him the tracks. They said ok, but could you find a way to do it for anyone else? The patients don't have the energy to watch or read anything but they could listen.'
This launched the brothers' Books for Dad scheme, which supplies patients with devices loaded with audiobooks by Audible. So far the scheme has reached 11 hospital trusts and they plan to continue trying to increase coverage.
There are 30 titles on each device, a mixture of classics, airport novels and podcasts, as well as the Bible read by David Suchet and the Koran.
The brothers are hugely grateful to all the NHS workers. 'They have been working so extraordinarily,' added Nicky. 'We are very much still clapping, even though the weekly clap has stopped.'
You can donate to Books for Dad here.