More couples discuss what they would do if they won the lottery than how they would co-parent their children if they separated.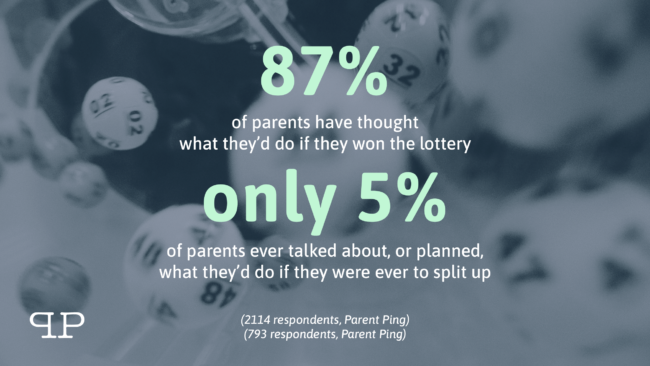 87% of couples have talked about how they would spend a lottery win. Just 5% admit to having discussed potential parenting arrangements in the event of a separation or divorce. This needs to change…
The Parents Promise
Inspired by our work with separating parents in the Dad.info forum we have joined the Positive Parenting Alliance and are proud to sign 'The Parents Promise'. The idea – to start a national conversation about how to better protect children affected by family separation. Firstly, Over 100,000 marriages in the UK end in divorce each year. Secondly, experts warn that conflicted separation can have long term impacts on children. Therefore to help children, we want to change the UK culture around divorce and separation.
We want parents to make a commitment now, that if their relationship breaks down in the future they will do what's best for their children. We support The Promise because it puts children at the heart of the separation conversation.
Founder and Dad James Hayhurst comments: "It's not surprising that most couples have not had a conversation about what would happen should they split up. But, for many, it will happen. The ask is simple: open a dialogue with your partner when you are still in love – not at the point of a relationship breakdown – and make a commitment together to put your child first, whatever happens".
Let's start having these difficult conversations
Ian Soars, CEO of Fegans and Dad.info joined the Positive Parenting Alliance because: "it places children at the heart of all parents thinking. Whether parents are together, parting or separate; this promise has the power to transform Children's lives if, as a nation, we can grip its central truth…great parenting is always about the children, not the parents."
Poorly managed separation can have a negative impact on children. Lets have the difficult conversations now and protect the mental health of our children over the longer-term.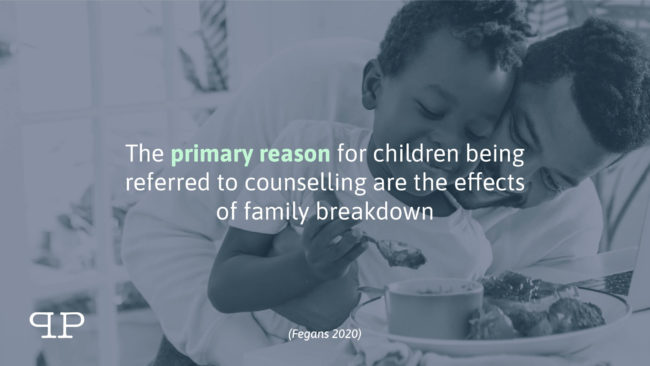 What impact does separation have on children?
Clinical Psychologist, Dr Angharad Rudkin adds: "Negative consequences for children after poorly-handled divorce include decreased academic achievement, poor psychological adjustment, social and emotional adjustment, and negative self-concept2. In fact, it's a major reason for children accessing counselling services. Their physical health is compromised, too, especially in situations of high conflict3. For this impact to be reduced, communication is key. In one study4, a quarter of children whose parents had separated said that no one had talked to them about the separation, leaving them feeling confused and distressed5.
Join Us: Support The Parent Promise
For more information, to support the initiative and make the Parents Promise today, visit: https://theparentspromise.org.uk.
1 Family Solutions Group 2020
2 Amato P. The consequences of divorce for adults and children. Journal of Marriage and the Family 2000;62;1269-1287.
3 El-Sheikh ME, Cummings M, Kouros CD, Elmore-Staton L, Buckhalt J. Marital psychological and physical aggression and children's mental and physical health: Direct, mediated and moderated effects. Journal of Consulting and Clinical Psychology 2008:76(1):138-148
4 Avon Longitudinal Study of Parents and Children (ALSPAC) study
5 Dunn, J. and Deater-Deckard, K. (2001) Children's Views of their Changing Families. York:
Joseph Rowntree Foundation