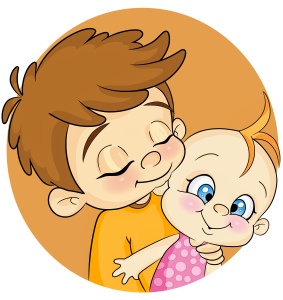 When we were expecting Harvey we had this grand and idealistic view that the boys would be bestest buddies and the proof of this would be that they would love to share a room together. It was, therefore, with enormous pleasure and excitement that when Harvey was 3 months old we moved his cot from our room and into Jaspers. Three days later he was in a room of his own.
A few weeks ago, we had some American students stay over for 3 nights whilst they were visiting the homeless project I work for. With only 3 bedrooms at our house the inevitable was required; the boys needed to bunk up together. I have to say that they did pretty well and we survived the experience fairly unscathed. The only down side was that Harvey missed out on his quiet play time each morning and we discovered how important this half hour of play has become to him.
Our boys tend to wake up around 6.30am and we have taught them that they need to stay in their rooms until 7am. It is this half hour slot that H calls his quiet play time. Without us knowing, it has become a haven in his life, it sets him up and settles him in to the day.  He really does love and value his quiet play time. We often hear him playing out games from his vivid imagination or singing along to songs on the CD player we bought him for Christmas. 
With the sweet sound of success from their recent sharing experience still ringing in our ears we didn't think twice about Nana and Granddad coming to stay over Easter, the boys would simply bunk up together again. All I can say is Harvey and Jasper will NOT be sharing a room together for a while, not until the wounds heal anyway!