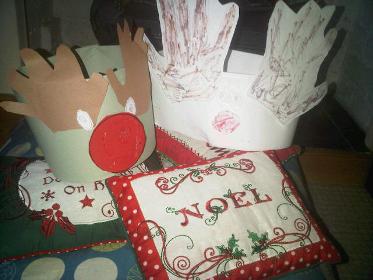 I got home from work on Wednesday last week to a very animated Harvey!  He had made the most amazing reindeer hat at school and was excited about showing it to me. 
His creation was brilliant, it had a big red nose and hand antlers. You could tell he had put a lot of 6 year old effort into its creation and was as proud as punch with himself. But creating one such hat was not enough for this little hatter, oh no, he needed to express his ability on a bigger scale (well a bigger head at least). And so it was born, Daddy's Reindeer Hat.
The process was quite simple.
Make a band big enough to go round your head.  In this case it took 3 sheets of A4 folded landscape
Cut out a big circle for the nose and colour it bright red. Stick it on your head band
Draw some eyes and stick them on above the big red nose.
Draw round your hands and cut them out. Colour in brown to make the antlers and stick them on to the band above the eyes.
Of course once my hat had been made Harvey and I were obliged to wear them till bedtime and we could only answer to the term "Hat twins