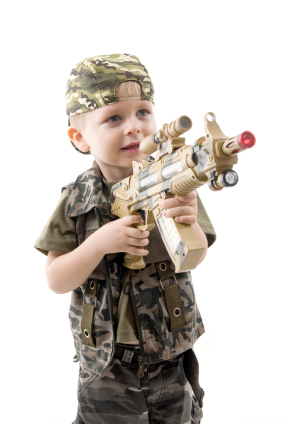 Me man, me like to play battles, me like to shoot things, me like to be victorious! 
One of the things I like about having two boys is that we get to do "guy
Last Sunday we hung out with some of our mates for lunch and then had a brilliant hour running around with our Nerf guns. I'm well aware that when it comes to guns the parenting camp seems divided between pro guns and anti guns! Shamelessly I sit in the pro camp. I'm not into shooting for sport and don't spend my leisure time sitting in front of a screen playing the latest version of Call of Duty however I do allow the boys to play shooting games and therefore have toy guns in the house. If I'm honest I really don't get the thoughts of those in the anti toy gun camp.
That said, now back to the nerf battle! 3 dads, 2 mums and 9 kids running around with an arsenal of over 20 guns (my mate Phil can only be described as an avid Nerf gun fan!). Two teams, adults v the kids, the purpose? Simply to let off steam and have fun. Yet as the kids, ranging from 11 to 3, go off to make plans, their shouts of anticipation trailing behind them I can't help but suddenly sense the competition in the air. Without any words being exchanged 5 adults express in a simple glance that what was meant to be a simple run around has just been declared an all out battle.
Before we can plan, a shout hits our ears and the first wave of attack hits, a dad is hit on the back as the rest of us turn and start shooting. Foam bullets are coming from every direction, adults and kids alike are diving for cover. They may be small but these kids have a plan and the glint in their eye spells it out, GET YOUR PARENTS AND GET THEM GOOD!
As I look up I see Jasper holding his mates Nerf N-Strike Havok-Fire EBF-25, this is a powerful bit of kit, a fully automatic dart cannon! I dive for cover and as I hit the deck all I can hear is Harvey shouting "Get him Jasper get him good!"
Sixty minutes and a lot of laughter and shouting later the kids are of course victorious and we all head home for some r&r.
Fun times!