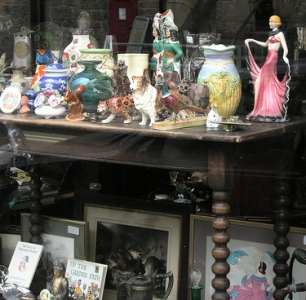 This week I turned 44, but for the whole week Mrs Harvey's Dad has been proper ill and in bed; This week I have been mum and dad; This week none of my plans worked out; This week I'm totally knackered and to make things worst there are only 3 more shopping days till Mother's Day.
I can't go shopping today because I'm working; I can't go tomorrow because I'm working. So like most of the dads in the UK I will be last minute shopping with the boys on Saturday! 
So that's the when will I shop sorted but what to get! Do I go BIG and get something financially worthy of a mum who, let's face it, can take a week like this in her stride, or do I go hand crafted and get the boys to make something that becomes much loved and valued by mum forever. 
Dilemma, dilemma! Big or priceless? *a quick pause whilst I check bank balance!* 
Well that's that decision made! Much loved and valued homemade gift it is. 
Mrs H likes vintage stuff, so here is the plan:
Near to where I live is one of those junk shops that sells everything from furniture to old buttons. Saturday will see me, Jasper and Harvey go on a treasure hunt complete with a treasure quest map (guess what I'm making tonight after work!) that will set out the quest and give directions to the junk store. I find making a game of trips like this helps make the whole experience something two little boys are going to be excited about and means less stress for me!
Once at our destination, they will have to find the treasure that we can decorate when we get home. I find that giving them "ideas