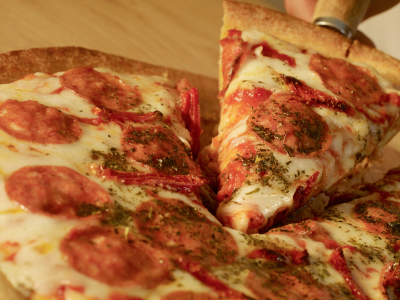 I don't know about you but it's a very rare occurrence for us as a family to go out to eat. That's down to a few things 
Money – is it me or does feeding a family of four feel like a stretch these days?
Fussy eaters – Harvey is not the easiest person to feed. He doesn't like Pizza, meat, potatoes, vegetables or ice cream, so our options are, well, limited!
Boredom – when the boys were younger they really struggled to sit down and wait in restaurants, which led to two rather exasperated parents and therefore made the whole point of going out seem rather senseless .
Friday night however we headed out as a family to paint the town red!
But what about the money I hear you ask; well the main reason we went out was because we were given some vouchers to spend at a specific pizza establishment, so with the first hurdle out the way we moved forward to conquer the remaining two.
As expected the food choice for Harvey was limited but that's what you get when you take a pizza hater to a pizzeria I guess, but between the dough balls and other bits he made do without to much fuss and even surprised us by ordering AND EATING a chocolate sundae.
Two down, one massive issue to go – boredom.  I was however prepared for this issue and packed secret weapons. I'm not ashamed to admit it gents, I took the boys DSi's and yes they sat quietly in between course lost in the wonder of their computer generated worlds. Is this bad parenting, ah get over it! What it meant was that mum and I got to talk, engage and have some time together over a meal cooked by someone else, bliss.
Oh and another way to combat boredom is for your 8 year old to lose a tooth halfway through his peperone margarita pizza!