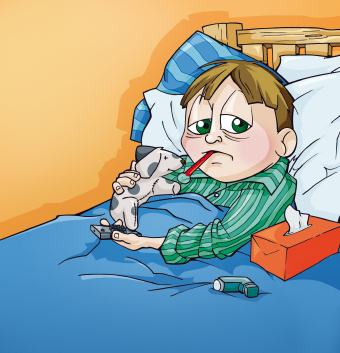 Please don't socially shoot me but I only work 4 days a week. I know it's a total privilege and no it's not because I have a fantastic paying job because I don't, I run a homeless shelter! It's because I don't want to get to the end of my life and think, bugger if I'd worked less hours I could have seen my family more and been more engaged.
It was a family choice three years ago for me to go part time. It was a family choice because it meant that we never have a holiday, don't have leisure money and have to count every penny but we are happier and see more of one another. But why do I tell you this? Simply because I don't work Fridays and Harvey was ill last Friday.
Friday was all about me and Harvey; it was all about me getting to take care of my poorly son whilst mummy went to work (she works two days a week, yes again a family decision). We snuggled on the sofa watching Ben 10, we had lunch together on the carpet and when he grew tired and took himself off to bed I read him stories until his eyes grew heavy. Simply put we spent father and sickly son time together and it was good.
I will bang this drum till the day I die; money and possessions are trappings, they are just things that I leave behind in a will but memories and love live on in my mind and their heart forever.  If I shut my eyes now I can remember our story and the line I read out as H closed his eyes and drifted off, I can hear him laugh as Ben 10 turned into the wrong alien. I live for these moments so much more than anything else. So socially shoot me if you want but please understand my reasoning.