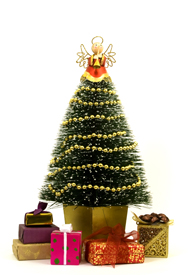 I totally blame Mrs Harvey's Dad for introducing this word into our family vocabulary this week.
Why her? Simply because she made us all go to the annual turning on of the Christmas lights last Wednesday evening and now all the boys talk about is the flipping C word – Christmas. The boys have started to get excited about Christmas.
I don't know if it just me or if it a Dad thing but I never seem to be excited about Christmas these days. I don't think I'm maturing into Scrooge or the Grinch but I do know that I don't have the same passion about Christmas as I once did. Am I alone or do I get a Dad's amen on that point? 
Is it that I've simply lost my child like innocence around the festivities ? is it because with age I have grown weary of the consumerism  on the TV, of the shopping, eating and drinking; or is it because I don't get the opportunity to soak in, that all important, build up to Christmas with all its quintessential traditions that once brought me so much pleasure?  
I totally miss having the time and space to enjoy the build up to Christmas. I confess that I get really jealous that the wife and kids get to go to the shops, see the lights, make the mince pies and sneak out to see Santa and the Cola Truck! 
I think I need to make a simple choice; I need to make time and space not only for Christmas but more importantly the Christmas prep. I need to make space to watch a classic version of A Christmas Carol, going to the shops to buy gifts rather than doing it online, making the mince pies and most importantly engaging with the boys in their excitement, even if that means watching certain adverts for the umpteenth time! 
Christmas; bring it on!