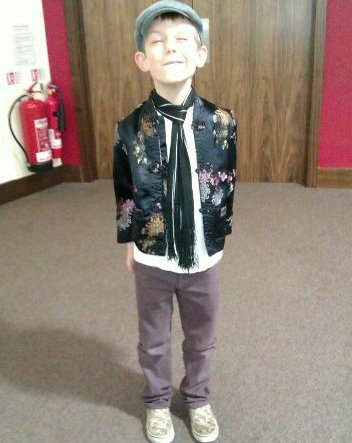 When the boys are really little it was a fairly normal occurrence in our house for them to wear their Spiderman costumes to the shops or dress as a pirates for the cinema, but like most parents I did think it was something they would grow out of!
On Saturday we went to a great wedding of two totally cool friends and of course, being the trendy young family we are, we thought long and hard about what threads to wear. What we weren't quite expecting was the individuality that Harvey was about to bring to the forefront!
A while back I wrote a blog on here called Letting Him Be it talks about how I learnt a valuable lesson about getting the balance right between being overpowering and letting my sons have some freedom.  It turned out that H's choice of clothing for the wedding was one such occasion when I would need to choose to let him express who he is and not make him conform into what I think they should be.
Here then is a picture of my little style guru who likes to choose his own threads and beat his own style. I'm so proud that he has the confidence to do his own thing. I can't wait to see what kind of life he chooses as an adult unencumbered by pressure.