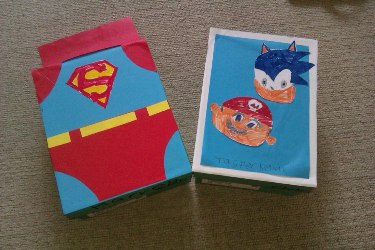 One whole week after everyone else seems to have gone back to classes the 10th of Sept has finally arrived; today is the day the boys start at their new school. I blogged a few weeks ago about the journey around why we were changing schools and you can read all about that here.
Have to say that it's been a bit weird getting them ready to go.  They're both a tad nervous about not knowing anyone in their class and having to make new friends but I guess the helpful thing about that is, as it's a brand new school, all the kids are in the same boat. To make the transition easier for all involved however the school has done a great job in setting up different events over the holidays. From play times at a local park – to visits around the new building, it's all been about folk starting to get to know each other. For me however the best initiative started in the morning of the 28th of August. 
It's not often that the boys get post so when a postcard arrived that morning addressed to them they were both really excited. Jasper read it out to Harvey.. 
Dear Jasper and Harvey 
It's not long now until you start at our new school – We hope you are as excited as we are! To help us get to know you we would like you to make a treasure box of your favourite things. Bring it to class in your first week to show the class. 
Have fun 
It was signed by their teachers and this is just one of the impressive initiatives that the staff have taken to help make tomorrow as easy as possible. 
From LEGO figures, Star Wars characters, NERF bullets, Moshi Monster cards, empty Skittle packets, Spiderman stuff, drum sticks, army gear and trinkets from various summer trips, the boys have totally enjoyed looking around the house and hunting for items to fill their treasure boxes. As a parent it's been interesting seeing what they have chosen and why they think it will give their new friends a glimpse into who they are. Harvey being Harvey of course had to include at least one hat in the treasure box! I can't wait till home time to hear all about how it's gone.