The DadTalk Team spent the weekend at The Baby Show at Earl's Court, where we got to talk face-to-face to brand new and expectant dads. At an exhibition full of resources for mum and baby, the DadTalk stand (not to mention the sausage stand just across from us) was a welcome sight for the men in attendance.
Over the weekend, we chatted to all kinds of Dads.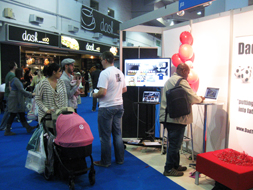 One was a man in his forties, who had raised two kids on his own. Now they're adults, and he's expecting a third with his new partner.
Another dad was there with his 20-something daughter, who just had her first child. She's single, so this granddad is stepping in and taking responsibility for being a positive role model for this new baby – and supporting his daughter, too.
Still another dad has been married for two years, and is looking forward to welcoming his baby and starting a family with his bride.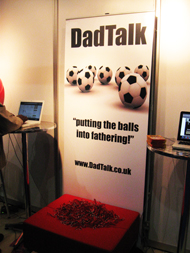 Dads from all walks of life, with all kinds of backgrounds, all in one place. They also signed up as members of DadTalk, which means they'll all be in one place again – right here on DadTalk.co.uk.
Between their experiences, and yours, we've got quite a lot of knowledge and wisdom floating around here. And, if you're all like us, we've got quite a lot of questions to ask, too.
We're looking forward to the discussions that are sure to kick off as we all bring our questions and answers, and support each other in the big journey that is being a Dad.