Christmas has come and gone – are those must-have children's toys now just gathering dust?
Christmas may be over but am I the only one who is still somehow managing to be pricked by fallen pine needles as I walk around in bare feet? No matter how often I hoover, there is always one I've missed. But maybe that says more about my hovering…
So how was Christmas for you and yours? All you wanted it to be, I hope.
We are often told Christmas is about the children but, when I ask my lot, they tell me it is about the presents!
Yesterday, I was chatting with my other half about the gifts we got our children and we wondered: Were the toys they wanted soooo much, the ones they are still playing with four weeks' later? In some cases, yes. But in the case of electronic gadgets, not so much.
We didn't allow ourselves to be pulled into the pre-Christmas madness that was the must-have toy Hatchimals.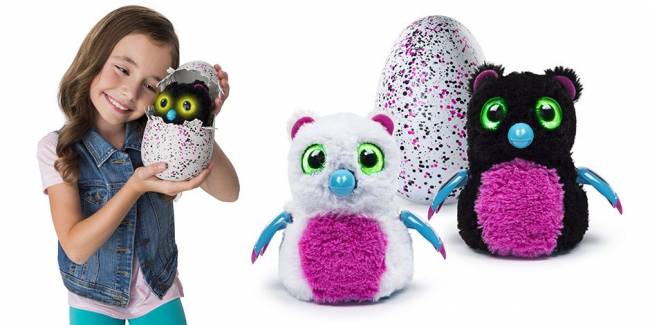 So, no Hatchimals panic. Instead, a few days before the shops shut, we were desperately searching for an electronic diary for our six year old.
None were to be found in stores near us, so I asked my 81-year-old mother to find one in a shop near her. It was two hour round trip but she managed it.
Yes, I felt guilty about that. But I just kept telling myself Christmas is for the children…
And at least that electronic diary is still looked at now and then.
I'm not sure the Hatchimals have fared so well, judging by some parents' reviews on the Smyths Toys website:
"My daughter has never played with it again."
"All that fuss! What a waste of money. So disappointed."
"It's been thrown on the shelf and forgotten about."
To be fair, there are other parents who have given Hatchimals much more positive reviews but the cycle of toy crazes mean that we'll be going through this all again before you know it.
In fact, the annual toy industry trade exhibition Toy Fair is on next week, so prepare for lots of news stories about what's going to be the next big thing.
But before we all fret too much about the commercialisation of children's toys, it's good to remember that play is really important for children's development.
According to Channel 4 child psychologist Dr Sam Wass: "A huge amount of research suggests child-led, unstructured free play is vital for stimulating imagination and creativity, as well as helping the child to become more self-sufficient."
He continues: "It's the down-time, when there is not such much going on and the child has to entertain themselves, when they do their best learning."
So, over the Christmas holidays when I was joyfully watching my children play with their new toys and invent all kinds of extraordinary games, they were actually doing their best learning?
Perhaps, Christmas really is for children after all!