Whether splashing out on the main-event gift, or simply looking for a fun treat to put in your nipper's stocking, nothing makes the lucky recipient feel more special than seeing their name emblazoned on a prezzie (also comes in handy for remembering exactly who got what come Boxing Day, and stopping sibling squabbles in their tracks)…
The "Corr! Wow!" Gift: Kiddiewinkles Playhouses and Wigwam

If kids can have fun playing make believe in a cardboard box, imagine how blown away they'll be with one of these thoroughly proper playhouses! The Kiddiewinkles 'tents' encompass children's favourite worlds – from a roses-round-the-door cottage and a racing-red fire engine to a Wild West Wigwam made for cowboy and Indian fun! But there's more to these playhouses than gorgeous looks – dual themed and with a door on both the front and the back, little 'uns get two houses in one. For example, the Gingerbread Cottage looks good enough to eat with its cute appliqué gingerbread men (and women!). Then turn the playhouse round and it becomes the Sweet Shop with its own door and shelves full of tasty treats, including Chrimbo favourites, candy canes and swizzle lollipops.
The playhouses come in two sizes: small is about 110cm high, so will easily accommodate children up to six years; the large one stands at an impressive 165cm tall, so plenty of room for big kids – or for Dad to take a sneaky snooze in. Both the playhouses and wigwam can be personalised with your child's name embroidered onto the front door i.e. Olivia's Cottage or Ollie's Den, so there'll be no arguments if older siblings try moving in!
Personalised Kiddiewinkles Playhouses and Wigwam (ages 2+): from £164 to £240 (with name). kiddiewinklesshop.co.uk
WIN!
We have one personalised Gingerbread Cottage playhouse or Wigwam to give away to one lucky dad. For your chance to win, click HERE
The Christmas Tree Cracker: Children's Colouring Set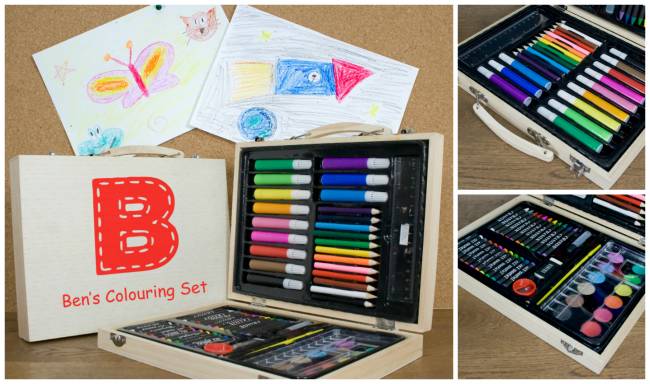 Christmas is really brill and all that, but with it comes cold, wet and windy days where the only option is to stay snug and cosy in-doors. So to prevent whinges of "I'm booored" five minutes after waking, encourage your little elf to embrace their creative side with this swanky Personalised Colouring Set. Inside the crafted wooden box, budding Banksies will find 63 pieces of artist's equipment – including coloured pencils, crayons, felt-tips, pastels, paint, paintbrush, a ruler, an eraser and a pencil sharpener. Better still, the box can be personalised with your child's name and first initial, and can be carried around, thanks to its sturdy handle and clasps, which make sure everything stays in place. All that's left to do is set them designing next year's Chrimbo cards – cute, unique and, most importantly for any self-respecting Scrooge, free!
Personalised Children's Colouring Set (age 3+): £24.95. prezzybox.com
The Post Box Surprise: Letter From Santa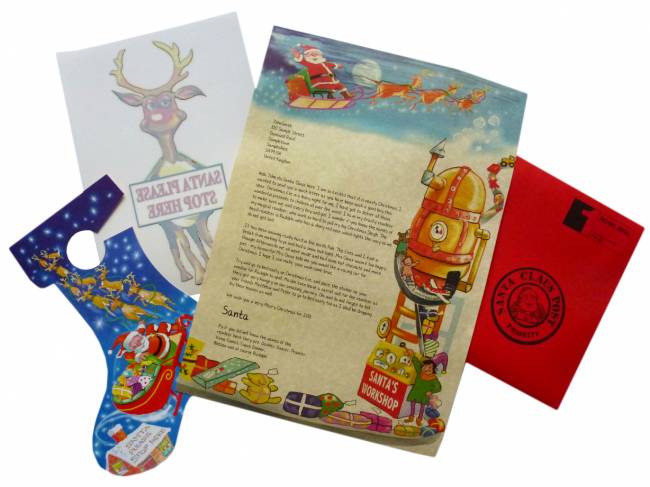 Just picture your ickle one's shiny, happy face if they received their very own personalised letter from the black-booted, wide-of-girth fella they know as Father Christmas. Well, that's just what they get with this personalised prize. Printed on Father Christmas paper (the quality stuff – Santa doesn't do cheap), the letter will arrive in a red envelope stamped with SANTA CLAUS POST PRIORITY. And the best bit? When your nipper opens it, they'll find the big man mysteriously knows the exact prezzie they most want, and also who their two best friends are (that's because their clever dad had a sneaky word in Father Christmas'ear and let him know all this info when he ordered the letter). They'll also read all about what Santa, his elves and reindeer have all been doing in the run-up to Christmas and how Mrs Claus has taken to jumping and twirling around in her skates like a ballerina (she never could hold her sherry).
Personalised Letter From Santa (age 3+): £5.99. Ijustloveit.co.uk