DAD.info's Simon Harris tests an electrifying tech toy in time for Christmas…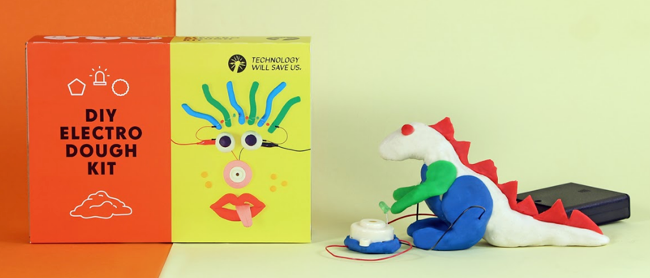 I'll be honest with you… I've never really understood electricity. I mean, I know what it is and what it does, but I don't actually understand how it works. You press a button and then all this wizardry happens… light, movement, heat. It is like magic, isn't it?
Well, now that I've got a curious child asking lots of questions, I'm confessing to not knowing lots of simple 'hows' and 'whys'. So I've decided if you can't beat 'em, join 'em – and I'm going to learn a few things myself. This is where the fantastic DIY Electro Dough Kit comes in very handy. An introduction to tech by building sculptures with dough and bringing them to life with sound and light. This is electricity explained on my level (and my four-year-old's).
The first thing you need for conductive dough is, of course, dough. Either grab some regular play dough or get down to basics and knock some up yourself. A recipe is provided and it's peasy, lemon-squeezy. If you want to get all fancy and creative, then throw in some glitter, food colouring or lavender oil.
Next step is your circuit. You build your own path with LEDs, buzzers and lights. It's really thrilling making it all come together. Even more thrilling if you give yourself a little shock! 😉
It's a great way to simplify the workings of circuits, electricity, wiring and conductors. There are instructions on how to make things like a birthday cake with lights and an Operation body game (remember that?). For older kids (and dads) needing a bit more of a technical challenge, you can create a mini table football game which keeps score for you. Technology Will Save Us website has 'hours of making awesomeness'.
These guys are passionate about helping children make discoveries in the exciting tech world – and there's no better way to learn than through play. Building these projects together is lots of fun and it's so incredibly satisfying for a parent to see a child start to understand how tech works.
Humming Bowie's Sound and Vision as you wire up your lights and buzzers is the only connection your child won't appreciate…
The DIY Electro Dough Kit costs £20, or £35 for a Gift Set including play dough, stickers, tech tattoos and more, available from Technology Will Save Us.
Simon Harris is a father of two and director of Swyhpe, a creative motion agency based in London.