You may not want to be thinking about Christmas shopping just yet, but here's a little heads up on three top toys that may be winging their way on to your kids' festive wish lists…
Star Wars
Star Wars created the whole movie merchandising industry way back in 1977, meaning Star Wars toys have been available in one form or another for nearly 40 years. But they're about to get huge in a whole new way. First up, and just out now, we have toy tie-ins with Star Wars: Rebels, the new CGI adventure series over on the Disney XD channel. That should coast you through to Christmas and beyond. But fast-forward to December 2015 and boys will be going ballistic for the brand-new movie (the as yet untitled episode VII). Proving that The Force will be with us. Always.
Star Wars: Rebels The Ghost (ages 9-14), £69.99. LEGO.com/StarWars
Frozen
The Internet is currently awash with super-cute videos of doting dads dueting with their daughters to popular songs from Frozen. Even Robbie Williams gave a rendition during the birth of his second baby. Given that it's the most popular animated movie EVER and given that Frozen fancy dress costumes are totally de riggeur this Halloween, it should come as no surprise to find that Frozen toys are also set to feature heavily in this year's letters to Santa. Expect dolls, figures, figurines, duvets, jim-jams, cookie kits, lamps, lip-gloss and, the coolest yet, the Olaf Snow Cone Maker (currently in America only, alas).
Anna & Elsa's Royal Closet (ages 3+), £41.99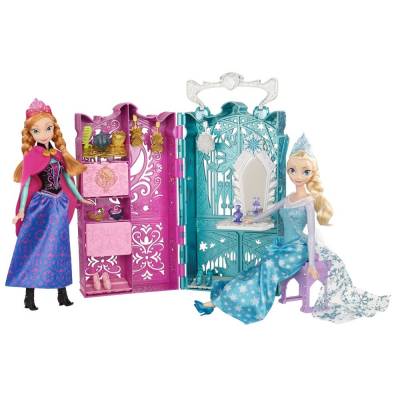 Xeno
Hit the road, Furbys, there's a new interactive weird thing in town. Cute to some, crazy to others, this Xeno Monster Toy responds to touch, has eight sensors and audio inputs, interacts with both you and other Xeno toy monsters, has an app with games to play and, best of all, drips snot. Brilliant! Currently in Burnt Orange, Pacific Blue and Ultra Violet colours, more monsters are planned next year. Xeno can display a wide range of movement and convey over 40 emotions via his LCD eyes. Already available online through various retailers, this is a Hamley's top pick for Christmas. And, did we mention? It drips snot. Luvvly jubbly.
Xeno Monster Toy (ages 5+), £79.99