Some say he has Valentina hot sauce for blood, while others insist he is not made of flesh at all and is as much an apparition as the ghost peppers he devours… but either way he spirited himself into DAD.info Towers and ­– since Mexican is the fastest-growing cuisine in the UK, and now the fourth most popular ethnic food, behind Indian, Chinese and Thai ­– he left his list of some of his favourite UK burrito joints on the Food & Drink desk.
… Just don't expect to see any hen parties wearing sombreros, nor to be paying £8 for guacamole: it's not a 'starter,' it's a ruddy dip!
3. Mestizo – King's Cross, London
Great if you're visiting with a group with a variety of dietary needs, this authentic Mexican restaurant offers whole menus catering especially to vegans, those with nut allergies, the lactose intolerant, and those on a wheat/gluten-free diet… they also have a regular menu.
Mestizo doesn't do Tex-Mex": this is a much more authentic style of Mexican cuisine exploring flavours like mole poblana, a sauce of chillies and chocolate among other ingredients, and the traditional tortilla soup. It's also a lot less pretentious than many of the Mexican restaurants that are springing up all over the capital.
For more information, visit: mestizomx.com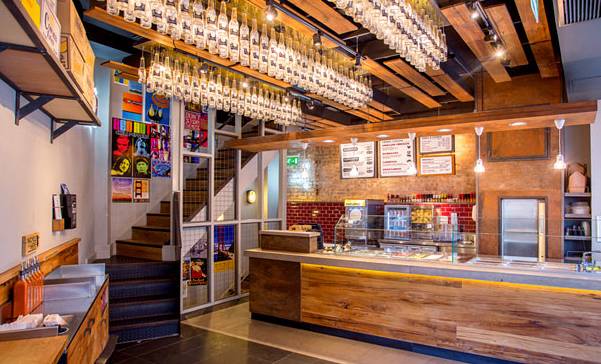 2. Tortilla – Charing Cross, London
(also has various outlets across London and nationwide)
Tortilla is a pretty fast, efficient burrito bar (rather than restaurant proper) with some perfectly agreeable seating inside and some nice tex-mex theming that doesn't go overboard and become tacky.
Vegetarians – who are often short changed in burrito joints – can only expect the usual mixed peppers and onions that carnivores get with their meat anyway, but at least the guacamole is free if you are having veggie wrap.
They have a very good spicy salsa from behind the counter and, better still, provide both Cholula and Valentina hot sauces for use at your table so you can add an obligatory kick to every bite. Muy Picante!
There's also a choice of rice (tomato or coriander) and a decent selection of fresh fillings which are stuffed to perfection.
Yes, it's simple and straightforward, but it does everything well and the flavours are spot on. It's the Burrito Bandito's favourite place in the UK for a quick burrito. Fantástico!
For more information, visit: tortilla.co.uk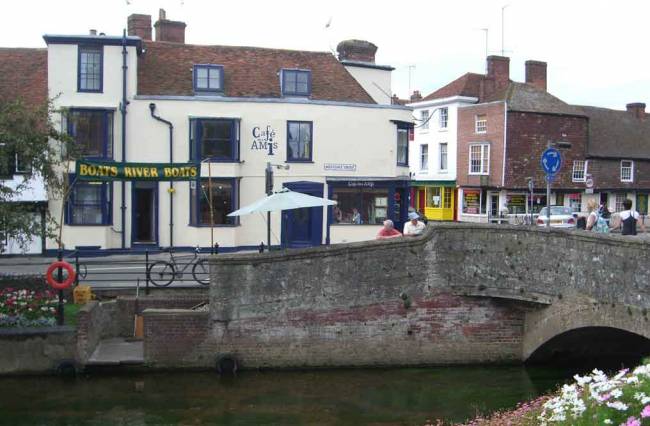 1. Café Des Amis [du Mexique] – Canterbury, Kent
The Burrito Bandito has visited Cafe Des (as it's practically always called by locals) around 100 times. He never visits Canterbury without eating in this local institution. Never. He's eaten here twice in one day… on several occasions.
Having sampled the delights of south-of-the-border cuisine around the world, eating in every Mexican restaurant he can find in every global city he visits, he knows what he's talking about. He's eaten Mexican in Mexico, of course, but he's also had chimichangas in Chicago, tortillas in Tulsa, and sizzling fajitas in San Francisco. He's also eaten Mexican in some of the unlikeliest places on Earth, From Edinburgh in Scotland to Naxos in Greece, finding what might be the world's best burritos in Bali in the process. He's always in search of the one that beats Cafe Des Amis. Nowhere has. Not yet.
The food, service, and ambience in the whole place is top notch. Expect Buena Vista Social Club on the stereo; eye-popping (but still equally as tasteful as the food) 3-D papier mâché pictures on the walls; and menus and ephemera graced with bespoke artwork from the magnificent Dave McKean (who illustrated the hit Batman comic, Arkham Asylum, as well as the cover of Stephen King's Dark Tower IV, and all the covers of Neil Gaiman's The Sandman series, among many other credits).
Atmos sorted, you'll find a revolving door of pretty, but friendly university girls taking your orders ­(a service staff team with such a high turnover that the Burrito Bandito has never been served by the same waitress twice, which is admittedly a bit weird) and a front-of-house team willing to bend over backwards to accommodate dietary requirements and the odd individual whim (the Burrito Bandito does like to have Mexican cooked breakfast, huevos rancheros, at dinnertime sometimes).
As for the food, expect all of the hearty, filling staples Mexico is famous for without any of the stodginess, thanks to their Mediterranean twist on proceedings. Particularly recommended are their amazing home-made nachos (seriously, who knew humble tortilla chips 'n' cheese could taste so good?), and their delicious vegetable tostadas, perched upon the tastiest, creamy sauce the Bandito has ever had.
The Burrito Bandito may be a mythical beast, but he's a herbivorous one, and while the vegetarian options on the menu are utterly mouthwatering, they are fewer than he'd like, which is his only criticism of the UK's – maybe even the world's – best Mexican restaurant. High praise, indeed.
For more information, visit: www.cafedez.com
The Burrito Bandito usually writes for award-winning travel and lifestyle website, DearlyDepartures.com