Thinking of shaking up your eating habits in 2015? Why not join the growing number of people choosing to be part-time vegan?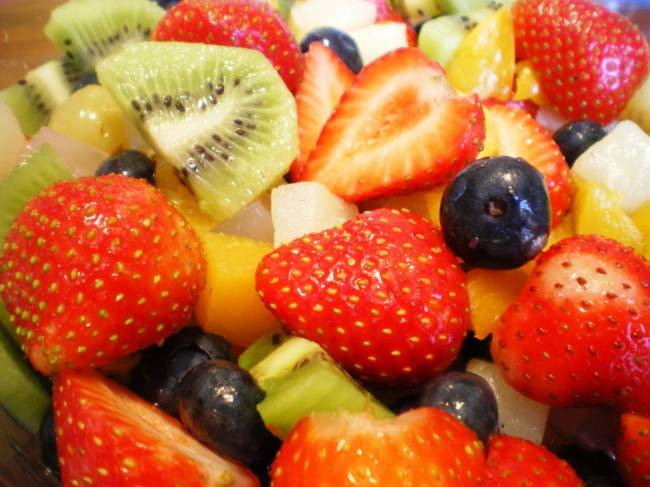 You might feel daunted by the prospect of a meat, fish and dairy-free diet, but for a short-term health fix, it may be worth giving veganism a whirl.
Five myths about vegan diets…
Vegan diets lack protein. It's a misconception to consume meat in order to get enough protein. There may be a lot of protein in meat, but that doesn't mean it's the only source. Vegans simply do what cows, pigs, sheep and chickens do; we go to the source. Green vegetables (the superstars are kale, broccoli, seaweed, peas and spinach), beans and pulses (lentils, lima, edamame, pinto, black), grains (brown rice, whole wheat bread and pasta, quinoa, bulgar) and nuts (brazils, peanuts, cashews, almonds, pistachios and walnuts) are all excellent sources of protein.
Because we have canines, we are carnivores? Nope! We are not carnivores as we cannot survive on a carnivorous diet. We can, however, survive as vegans and, in many cases, more healthily than omnivores. Also the presence of canine teeth doesn't mean we are carnivores… Have you seem a gorilla's canines?
We need milk for strong bones? It is perfectly possible to obtain sufficient calcium (and vitamin D) while being vegan.
It's expensive. Vegan storecupboard essentials like pasta, rice, beans, lentils and 'everyday' vegetables tend to be much cheaper than meat. You'll also save some money from not buying meat, fish and expensive pre-packaged meals and this is likely to cover the extra cost of buying plant milks, vegan cheeses the more exotic of vegetables and fruit.
You need meat to build muscle? No. It is perfectly possible to obtain enough protein as a vegan. The vegan athletic, sports and bodybuilding movement is growing, demonstrating that being fit and muscular doesn't have to involve the use of animals.
Five benefits of a vegan diet…
Vegans are healthier. Non-meat eaters typically have lower cholesterol levels, lower blood pressure, lower rates of Type 2 diabetes, a lower risk of death from heart disease, and lower overall cancer rates. Cutting out animal products also means it's easier to stay slim as you're not consuming high amounts of saturated fats from dairy and meat products.
It's easier to get your 5-a-day. Actually, scrap five, you can easily get double that on a vegan diet. Eating fruit and/or vegetables at every mealtime means that your diet will be much more nutritious than those making up a third (or less) of lunch and dinner with vegetables.
Going vegan can improve your sports prowess, not impair it. Surprisingly, many great and successful athletes are vegan. You may not be familiar with the name, but Scott Jurek is recognised as probably the greatest ultrarunner (distances of 50, 100 and more miles) of all time. He has been a vegan since 1999 and has won most of the toughest long distance races in the world. You probably have heard of Carl Lewis but did you know that he's vegan? One of the world's greatest athletes, Carl attributes his dominant and record breaking performances of 1991 to being vegan. NFL star Tony Gonzalez has talked extensively about how swapping from an omnivore to vegan diet has helped him gain and utilise energy while playing at the top of his career in the NFL.
No nasty niffs! Eliminating dairy and red meat from your diet significantly reduces body odour, and vegans frequently experience a reduction in bad breath!
Vegans are better looking. Vegans who consume a large amount of fruits and vegetables are feeding and nurturing the health of their skin, hair and nails meaning that they literally glow with health!
If you're up for an animal-free health challenge, Veganuary, sponsored by Nākd, has lots of hints, tips and support to help you achieve your goals.