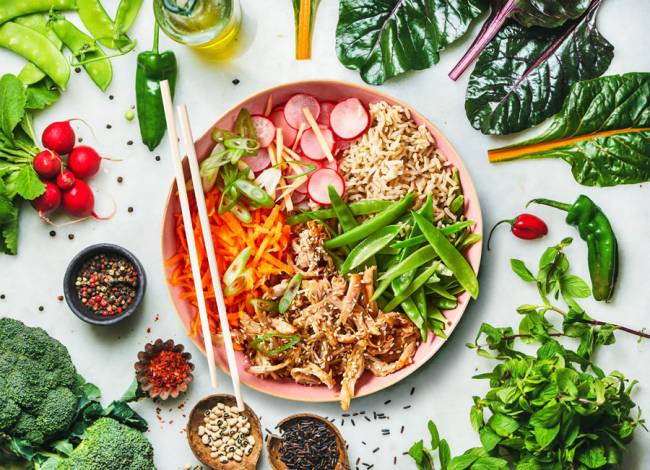 The fast pace of modern life is one of the main contributing factors that is causing Brits to not enjoy enough fresh produce, a new report finds.
Over 44% of people claim that they eat convenience foods because it's 'quicker' and almost half (48%) eat just as much, if not more ready meals and convenience foods as opposed to fresh food.
85% of Brits believe their diet could be healthier, yet almost one in four (23%) cook fresh meals maximum once a week or less, reveals recipe box company, Gousto, in it's 5,000 person Healthy Eating Index report.
Whilst Brits agree that healthy eating means eating your 5-a-day (57%) and cooking from scratch with fresh ingredients (54%), 62% admit they eat fresh fruit or vegetables five times or less a week. Almost a quarter (23%) cook from scratch less than once a week – showing the huge gap between our healthy eating intentions and reality.
Joe Wicks AKA 'The Body Coach', Gousto's brand ambassador says: "Efforts over the last decade in educating the public about healthy eating should be congratulated – this research shows that the these efforts are paying off with healthy eating on everyone's agenda, but now it's about how we can get people into the kitchen, cooking fresh food.
"Busy lifestyles and lack of cooking 'know how' shouldn't be a barrier to healthy eating. We need to fuel our own and our families' bodies in the right way, with nutritious, home-cooked meals – these are fundamental to getting us and those we love through the day.
"Eating well is on everyone's agenda, but many of us are struggling to get in the kitchen. Gousto's recipe boxes make it easy and enjoyable to eat home-cooked food, delivering precise ingredients and nutritious recipes direct to your door."
Also perplexed by portions, over one in ten (12%) of UK adults have no idea what a portion of vegetables should look like. Almost a third (32%) don't believe their meals include the recommended portion sizes, while half overestimate how much they need to eat.
Guidelines are also a cause for confusion – over four in ten (41%) failed to identify six grams of salt as the correct daily amount, with over one in ten (12%) believing it to be 60g, ten times more. Over a quarter (26%) don't know how much sugar they should have.
Watch the video with Joe Wicks to find out more about how to make healthy, quick and tasty food.
Registered Nutritionist Charlotte Stirling-Reed says: "It's worrying, but not surprising, that so many people are unaware of what the maximum recommended amount of salt is in the UK. It's often added into foods that you might not expect and can also be present in high amounts in foods such as crisps, savoury snacks and ready meals.
"As with anything, it's not about having no salt in your diet, but it's a good idea to check labels and be a little mindful about how much you are using. I'm a massive fan of using herbs and spices to add flavours to food, rather than relying on using salt. It's always so much fun to experiment with these in dishes and I love the fact that recipe boxes like Gousto allow you to do this and can help get more people cooking from scratch."
Visit the Gusto blog: click here