Red isn't always a warning sign. In the drinks world, it's more of a 'dive on in'. Naturally occurring red pigments in food are a hothouse of antioxidants, so maybe it's time to rethink your choice of breakfast juice…
Beet it
Anything that can squeeze two of your five-a-day into one 250ml glass gets our vote. V8 V-Fusion Raspberry & Beetroot (£1.89, 750ml, Tesco & Waitrose) provides both a fruit and vegetable portion in each serving. It tastes pretty great too, not remotely earthy or reminiscent of the beets you'd find in a sandwich. Loaded with Vitamin C, the juice contains plenty of nitrate from the beetroot juice. Nitrates once digested can increase the level of nitric oxide in the circulating blood and help to decrease blood pressure, too, so it's win-win.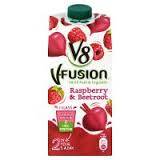 Cherry baby
If you used to love quaffing cherryade as a kid, you should switch to it's grown-up cousin. Cherry Good Light (£1.50 a litre, Waitrose & Sainsburys) contains a healthy dose of sour cherry juice, which has a whole host of health benefits. Sour cherry juice consumption has been linked to greater protection against heart disease, cancers and age-related decline, while a recent study also showed a positive link between sour cherry juice consumption and improved sleep patterns for insomnia sufferers. Place your orders now.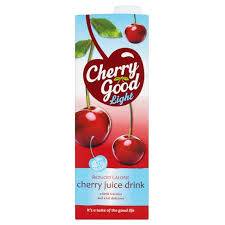 Merry berry
Don't wait until Christmas for your cranberry fix. These little berries are loaded with positive stuff. Clinical studies involving cranberry juice drinks have shown that regular consumption can keep blood sugar levels stable, reduce blood cholesterol and boost numbers of healthy gut bacteria. Ocean Spray Berry Blend (from £1.39 a litre, Tesco and Sainsbury's) contains cranberries, raspberries, blackberries and apple juice blended with natural stevia sweetener to keep the calories low. A 200ml glass provides 50% of your daily Vitamin C quota, and has under 50 calories, which can't be bad.