The new Martell Cognac Experience at the Mondrian London hotel promises to challenge everything you thought you knew about the famed French brandy, says DAD.info's Raj Randhawa…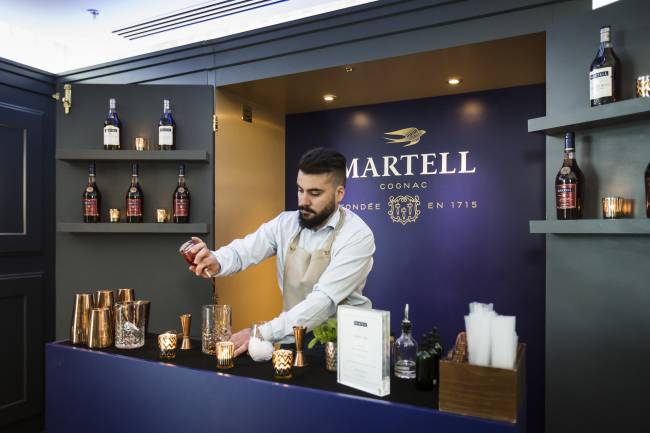 On arrival at the Martell Cognac Experience at the plush Mondrian hotel on the South Bank, I was given a key along with instructions to head for the fourth floor, follow the blue lights and find the door with the golden swift on it. So far, so mysterious.
I eased the door open and walked into the suite and met some of the other guests, before being offered a Martell Milk Punch (which takes 24 hours to make). I also met the very knowledgeable Matthias Lataille, Martel's UK brand ambassador who told us heaps about Martell and about Cognac – Martell is the oldest of the great Cognac houses and Cognac is produced from a white wine that goes on to be double-distilled.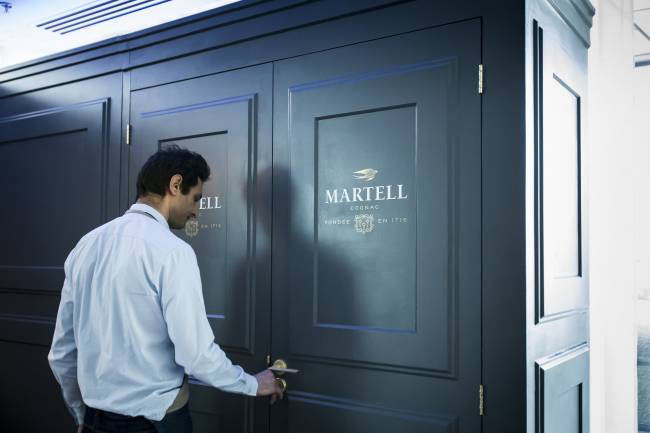 There was a special edition 'Premier Voyage' Cognac on display, which is housed within its own funky sculpture of vertical bars and comes in a luxury case – a snip at just £10,000.
A famous French pastry chef had been asked to create a series of exclusive flavoured macaroons that, when eaten alongside a Martell Cognac, would replicate the taste of a famous Cognac-infused cocktail. We took a bite of the macaroon and a sip of the VSOP Cognac, which combined for a taste explosion in my mouth. It was very clever.
Next, our host slid back a bookcase to reveal a hidden room – very James Bond. We walked through to a long table, where each setting had three Cognacs lined up. One was a Martell XO (£130 a bottle), next to it a Martell Cordon Bleu (£110) and finally a Martel Reserve Cognac Borderies.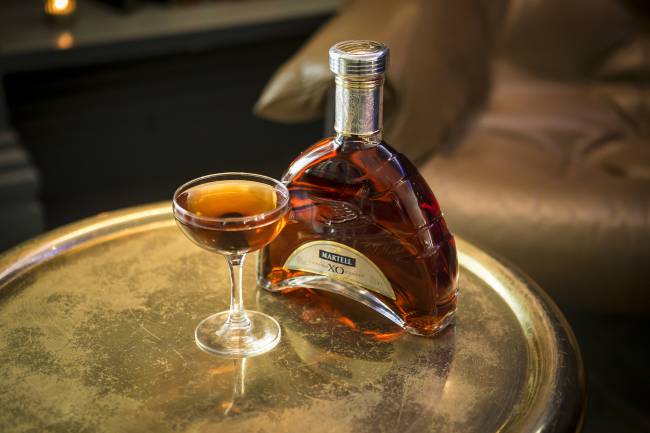 As we sat around the table, we learned about the various Cognac grape-growing regions in France – Bons Bois, Fins Bois, Bois Ordinaires, Petit Champagne, Grande Champagne and Borderies.
After some more Cognac wisdom from Matthias about how Cognac takes time to understand because of its complexity, we tried our next Cognac – the XO, which was much smoother than the VSOP.
The next Cognac, Cordon Bleu, went down smoother still. I was beginning to understand what Matthias meant about Cognac's complexity. There was a lot going on in the glass. I was picking up more and more with every sip.
The final taster was the Martell Reserve Cognac Borderies, which isn't available to buy. It's a special Martell 'House Cognac' that can only be gifted by the House of Martell. This one was really interesting. On the first sip, it smacked me in the throat, before mellowing in to an array of florals, spices and much more. It was my favourite of them all. At the end of the tasting, we were invited back into the main suite, where Matthias ordered me a delicious Sazerac cocktail, made with Martell VSOP Cognac.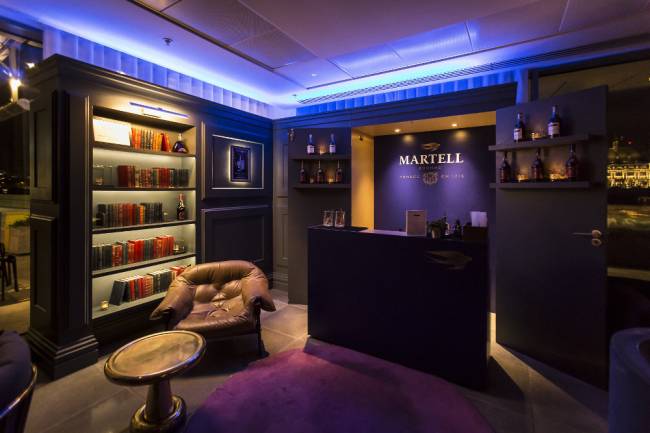 This is a luxurious Cognac experience where fans will learn a great deal about the spirit, and it has definitely put it back on my radar. As the experience came to an end, I finished my cocktail, thanked our host, said my goodbyes and on my way out I was handed 1/2 a bottle of XO Cognac, with a macaroon pairing. What's not to like?
The Martell Cognac Experience at the Mondrian London hotel includes a welcoming cocktail, a tutored tasting session with Martell Ambassador, Matthias Lataille, plus additional surprises for guests. Tickets are £45 per person from Eventbrite and the bespoke experience runs from 26th – 29th April and 3rd – 6th May 2017.
Raj Randhawa is a father of two and founder of WordUp Communications, a content marketing and copywriting agency.