DAD.info blogger, Simon Harris, takes his dino-loving daughter Mary to try out the Natural History Museum in London's new T.rex Grill…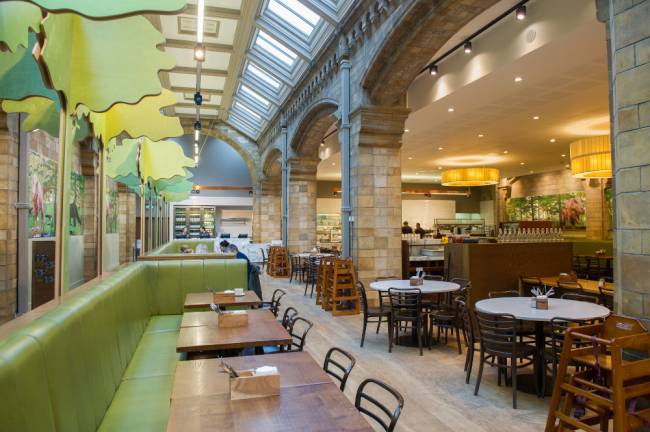 We all know just how special the Natural History Museum in London is – and it's always on our list of favourite places to visit with the kids. The next time you need refuelling here, step back 60million years or so and check out Benugo's new family-friendly brasserie, The T.rex Grill.
My daughter Mary was hit with the wow factor as soon as we walked in. A couple of very realistic dino animatronics literally stopped her in her tracks and her jaw dropped to the floor. We'd heard of walking with dinosaurs, but now we were about to dine with them. Pretty cool.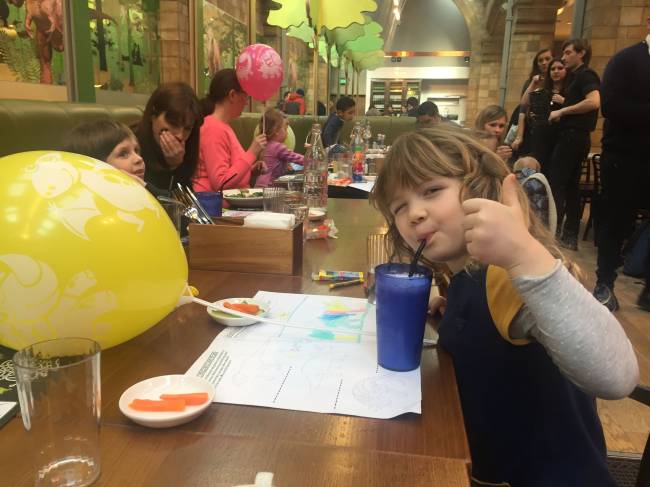 The menu has a few wow factors too. The choice is impressively healthy. In addition to the usual kids' fayre of burgers, pasta, pizza and goujons, there's also a falafel and advocado burger and seasonal fruit salad, which is a refreshing change.
The adult menu is equally varied. Instead of opting for one of the stone-baked pizzas or grill options, I tried the tasty (and very filling) vegan superfood salad. But to totally cancel out that smug, healthy feeling, I had to have the chocolate molten volcano cake too. If you're there for a special treat, then go for the Triceratops plate to share – a platter of volcano cake, toffee sundae, dinosaur eggs (!) and vanilla ice cream that will score you 'Best Dad' points aplenty.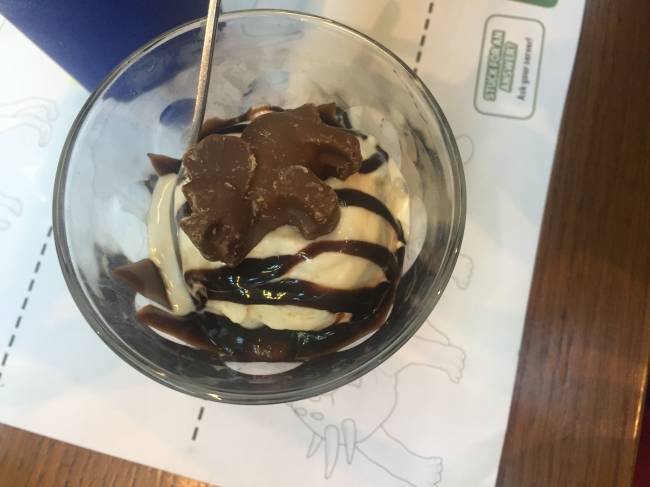 One added touch which always helps us parents is a kids menu with activities. It's always a sigh of relief when they are immediately given something to occupy their active minds when sat at the table in restaurants. This one has a great range of puzzles to suit all ages and a Draw A Dino competition. Phew. Enough of a distraction to give us a well-deserved breather to enjoy the Jurassic surroundings too.
The Natural History Museum's new T.rex Grill is open every day from 11am until 4pm. nhm.ac.uk