Are you a daily bread kinda chap, or more of an occasional sarnie muncher? There's no denying that bread makes a pretty practical way to house your favourite fillings, but if like the thousands of men who think of the traditional loaf as 'empty carbs', you may want to look further afield to find your preferred slice
Gluten free
If gluten or wheat is your nemesis, you're not alone, the 'free from' aisle is growing by around 19% each year- that's a whole lot of loaves. Gluten free no longer means picking up a loaf of bread that weighs the aboutsame as a brick and tastes like soggy cardboard. Gluten-free specialist Genius have made a range of loaves that taste just like bread, and pretty good bread at that. Genius triple Seeded Sandwich Loaf, (£2.99, widely available) gives you an extra vitamin E boost from the crunchy blend of poppy, linseed and sunflower seeds. Give it a go the next time you're rustling up a BLT.

Low carb
Low carb bread might sound like a bit of a pipe dream, but now it actually is possible. Now, this next loaf may need a little bit more patience, simple mix the contents of the pack with water, leave a few minutes, pour into the tray and bake. The result is a super seeded loaf with only 1g of carbohydrates per slice. Although a little heavier than your average sliced loaf, the nutty flavour and substantial fibre content make it a worthwhile eat. Each slice boasts 2.6g of protein and only 47cals, ideal if you want a skinny sandwich. Sukrin Bread Mix Sunflower and Pumpkin Seed (from £4.65, sukrin.co.uk) is not only gluten free, but free from egg, sugar, yeast and soya too.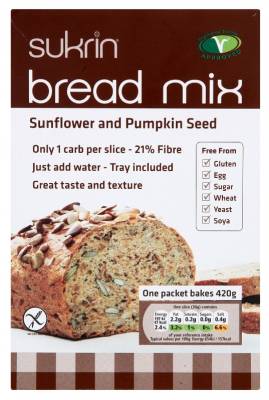 Protein punch
Bulking up? Managing to eat enough protein can be a bit of a bore, and usually bread is off the menu if you're trying to build lean muscle mass. Thankfully the muscle monkey's new BFF has arrived, Dr. Zaks Protein Bread (from £4.49, dr-zaks.com) packs in 30.2g protein per 2 slices, plus 17% of your daily fibre recommended fibre intake. As you can imagine it makes a pretty powerful sandwich, especially if you opt from some fish or lean meat and some crunchy salad.