We're bringing you our six favourite veggie restaurants. We could add another 20 great cafés to this list, but for fine dining, these eateries top our league table
Veggie places so great they'll make even carnivores come back for more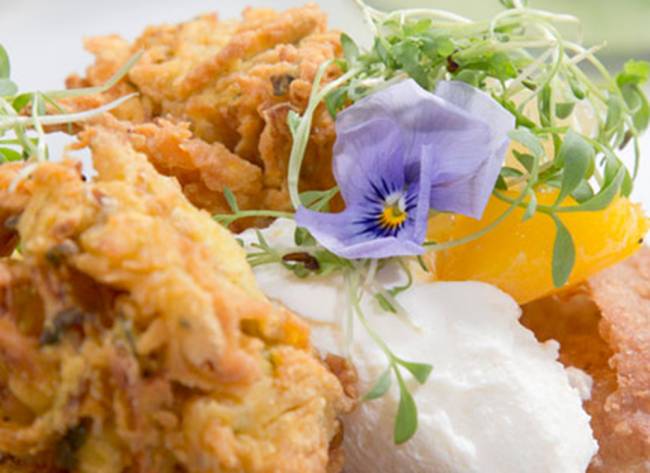 #6 – 1847, Manchester
The Vegetarian Society (yes, those guys who put the V on vegetarian products) is a British charity that was founded in 1847, and hosted its first public meeting in Manchester, with the intention of proving "the many advantages of a physical, intellectual, and moral character resulting from vegetarian habits of diet."
In 2011, Damian Davenport established a restaurant in Manchester, named 1847, in homage to the Vegetarian Society, and with the intention to "create modern, innovative dishes using the finest ingredients sourced from local suppliers."
In 2013, he opened a second restaurant in Birmingham, and in 2015 he seems set on taking over the country with plans to open two more, one in Bristol and another Brighton. He says his ultimate goal is "to push 1847 throughout the UK into key city centre locations headed by myself and a strong team."
Specialising in mezze dishes and local, seasonal and foraged produce, 1847's menu concentrates on simple, high-quality food. And if you live a long way from Manchester, there's sure to be one cropping up near you soon!
For more information, visit: by1847.com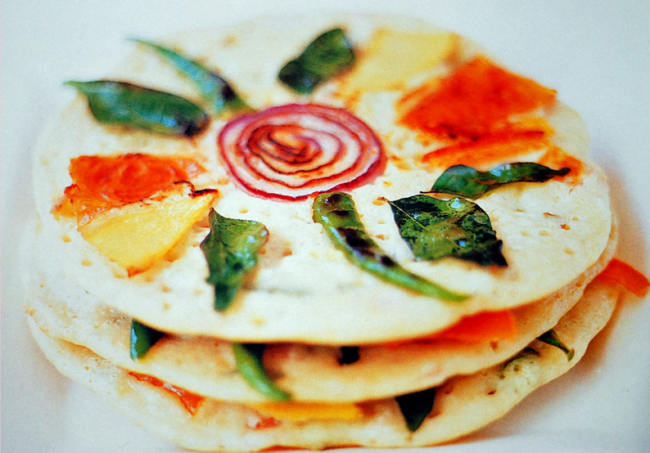 #5 – Rasa N16, London
Holy cow! As the home of three meat-shunning religions, Indian food has always been a strong option for a vegetarians with most menus offering a wealth of plant-based dishes alongside the usual Chicken Vindaloo.
Rasa N16 in Stoke Newington, the first in what has now become a chain of outstanding Indian restaurants specialising in South Indian cuisine, offers an entirely vegetarian menu though, and has become one of the most-loved veggie dining options in the capital.
Twice earning the title of Time Out's Best Vegetarian Restaurant, you absolutely have to try a dosa: delicious rice flour pancakes filled with delicately spiced vegetables and served with sambar.
For more information, visit: www.rasarestaurants.com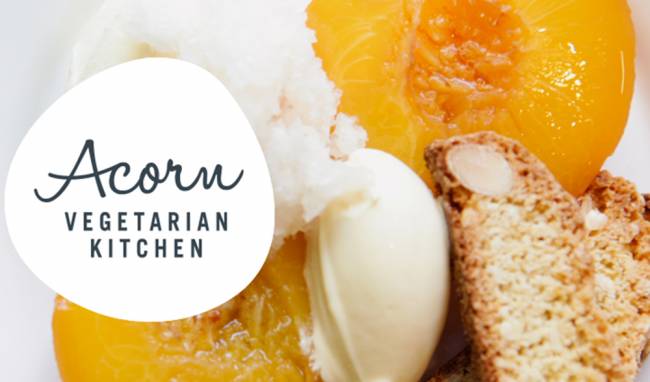 #4 – Acorn Vegetarian Kitchen, Bath
This place used to be Demuth's, a Bath institution since Rachel Demuth opened it in 1987, blending vegetarian produce with international cookery techniques from South America, Africa, Asia, and India.
In 2013 she decided to concentrate on her flourishing cookery school, and hosted foodie getaways, and sold the place to her head chef Richard Buckly, and his business partners. And with that Acorn Vegetarian Kitchen was born.
With the same head chef running the kitchen and the vegetarian ethos intact, it's a case that 'a rose by any other name would smell as sweet,' because Acorn still serves up a wine-matched menu of delicious dishes in sumptuous surroundings. Try Mike's courgette flowers, stuffed with ewe ricotta, served with white beans in parsley sauce, green garlic puree and dehydrated baby plum tomatoes. Yum.
For more information, visit: www.acornvegetariankitchen.co.uk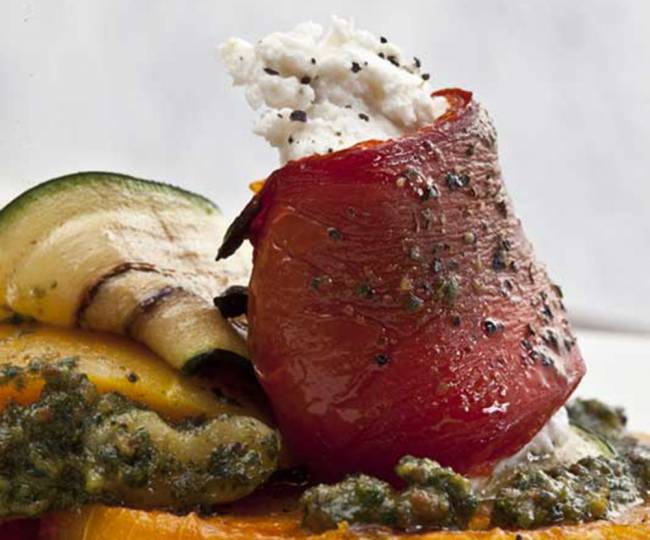 #3 – David Bann, Edinburgh
Anyone who thinks vegetarian dining means eating ladlefuls of lentils and sauerkraut off a trestle table in a squat, should check out the ultra-swanky David Bann in Edinburgh.
Here nouvelle cuisine meets chic, refined interior design, proving you don't need to own a kaftan to eat seitan, and that cruelty-free food is just as much for well-heeled urbanites. Pulled pork, dear readers, is not a lifestyle accessory.
Try the brioche and poached egg with fennel salad to start, followed by their chilli pancake with grilled sweet potato, courgette and chocolate sauce and then come back and tell us vegetarian food is bland.
For more information, visit: www.davidbann.com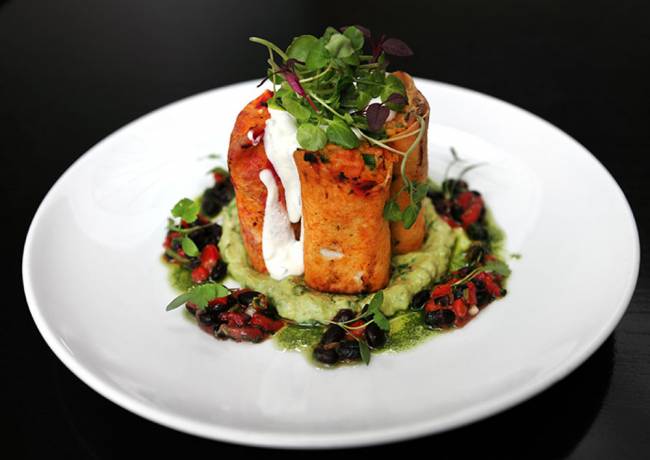 #2 – The Gate, London
The capital has more than its fair share of veggie dining options, from the tiny portioned and pretentious through to café comfort food, with quality being equally as varied, and fortunes as fluctuating.
In contrast, The Gate has been a pole star since 1989, a constant, undimming luminary by which to navigate the murk of London's vegetarian scene.
Inspired by their grandmother's fusion of Indian and Arabic cuisines with traditional Jewish food, the cookery at The Gate reflects the diverse cultural background of founding brothers Adrian and Michael Daniel.
While they might call their menu Indo-Iraqi Jewish, we call it mouth-wateringly moreish, with their restaurants knocking out decent portions of consistently inventive, tasty dishes for more than 25 years.
For more information, visit: thegaterestaurants.com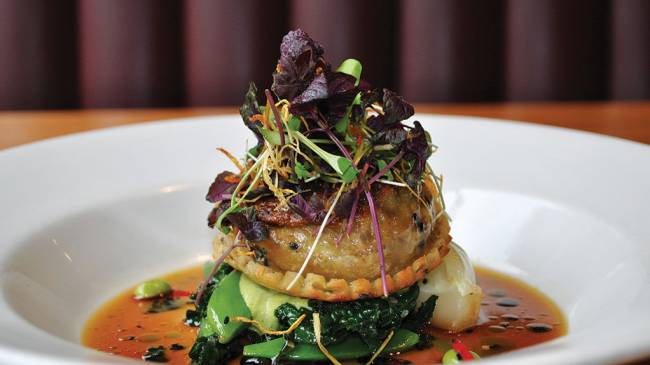 #1 – Terre
à

Terre, Brighton

It should come as no surprise that the UK's best vegetarian restaurant can be found in offbeat, hip, Brighton. Just a pebble's throw from the iconic seafront backdrop to The Who's Quadrophenia, it's appropriate that the unwaveringly friendly staff in Terre à Terre serve thoroughly modern food that positively rocks.

If you are lucky enough to live nearby (i.e. if you can afford Brighton's astronomical house prices) you'll already know the staff are ridiculously accommodating to all dietary requirements and will make you feel at home as they guide you through their beautiful, and somewhat bewildering menu.

Your head will spin – not only because they're fans of an oblique pun and overwrought dish descriptions – but because of the vertiginous variety of vegetarian and vegan options. With names like I Dream of Arancini, and How's ya Vada, it's a wonder the owners can keep their tongues out of their cheeks long enough to taste the food.

Definitely a destination for a special occasion, Terre à Terre cooks up herbivorous haute cuisine that even the most ardent carnivores will go crazy for.

Although the dishes change regularly, you can keep up-to-date with what's on the menu with their amazing Terre à Tapas sharing plate, a starter that features a selection of dishes, new and old, from around the menu.

One dish that will never outstay its welcome though is the fish-and-chip-mimicking, Better Batter and Lemony Yemeni Relish, which centres on chunks of buttermilk soaked halloumi dipped in chip shop batter. A meal that makes meat-eaters, hippies, hipsters and mods go right off their rockers.

For more information, visit: www.terreaterre.co.uk