Get ahead of the game for National BBQ Week (30th May to 5th June 2016) with these top tips that will have you cooking up a storm…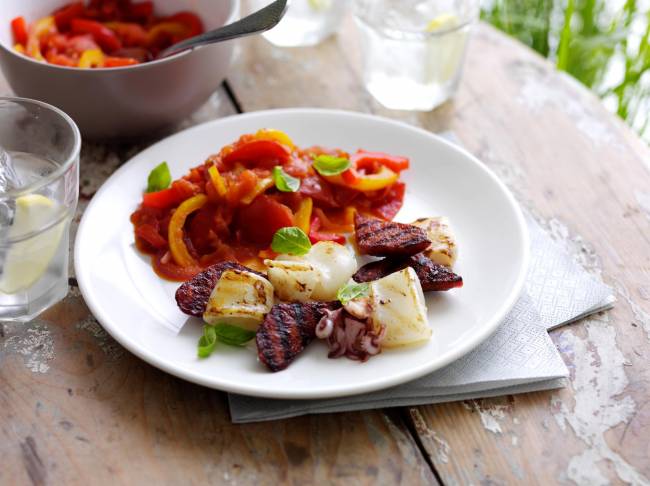 Whatever way you like to get grilling, be it on a gas, charcoal or disposable barbecue, one thing is guaranteed – things will smell good!
Chef Director of Salt Yard Group, Ben Tish, knows a thing or two about turning up the heat and creating five-star grub. He shares his tips for getting the most from your barbecue.
Ben's top tips for a wow-factor barbecue…
It's important to know when the BBQ is ready to cook on. The flames should have subsided and the coals turned and even, ashen grey.
Use hard stalks such as thyme, rosemary and oregano to throw onto the BBQ coals and smoke whatever your cooking. Great for a quick smoke hit!
For the best natural charcoal flavor use natural lump woods as opposed to the compressed briquettes.
For larger cuts of meat, a lump of seasoned hard wood such as oak or birch set at the side of the ashen coals will gently really a stream of perfumed smoke and in turn smoke and flavor whatever your cooking with.
Smoking chips thrown onto the coals will give a smokey boost of flavor to smaller items such as steaks, chicken thighs and fish fillets.
Use the coals as another cooking medium. Wrap vegetables in foil and nestle them between and under the ashen coals to slowly cook and flavor. Great for potatoes, aubergines, beets and carrots.
A digital meat probe is great for checking if large cuts are cooked through correctly.
Fish cooking clamps are brilliant for cooking- and turning large flat or round fish without the worry of then breaking or sticking
A fire chimney is a fast, reliable way to start up your BBQ. It's also great if you are using your BBQ for a period of time to cook larger cuts or several dishes. You can start the chimney next to the BBQ and then top up as and when needed, just giving yourself 10 minutes to do so.
Don't forget dessert! Fruits are delicious cooked on the grill especially stone fruits, pineapples and watermelon. Peel and cut the fruits as you wish and then leave them in the fridge, uncovered for an hour or so to "dry" out. This will help them char and caramelise nicely when grilling over a high heat.
Ben Tish is ambassador for Tesco Flame Academy
Get some more top barbecue tips and recipes at nationalbbqweek.co.uk