Here are five life-saving tips to see you through your little one's all-important complementary feeding journey, brought to you by the weaning experts at Babease…
1. Make sure your baby is ready
Your baby should be able to sit up without help, and hold their head steady. They should have developed hand-eye co-ordination and be able to look at food, pick it up and put it in their mouth. And of course, they also need to be able to swallow – young babies have a tongue-thrust reflex that pushes objects out of their mouth.
2. Introduce vegetables first
Try to start complementary feeding with a wide variety of vegetables. Babies naturally prefer sweet, salty and umami-packed flavours to those that are bitter or sour. Only giving them sweet foods, such as fruits, just reinforces their preference for sweet tastes. Instead, opt for bitter vegetables such as broccoli, kale, cabbage, cauliflower and Brussels sprouts. Research has shown that babies who have been exposed to a wide variety of vegetables in their first year go on to eat more vegetables in later childhood. When buying ready-made baby foods, carefully check the ingredients list. Vegetable-named products often have fruit as the main ingredient, so they're sweet rather than savoury.
3. Try as many different tastes as you can
Babies are more open to new tastes and textures in their first year of life, so try to feed them as many different tastes as you can to get those taste buds tingling and broaden their tiny palates. Babies sometimes need to try new flavours up to 10-15 times before they accept it, so keep trying!
4. Introduce family mealtimes
Try to eat together as much as possible, as your baby will learn from the rest of the family. Once your baby has accepted their first few mouthfuls, try to get into a routine of offering them solid food at the same time each day. The aim of complementary feeding is for your little one to transition from solely drinking milk to eating your usual family foods, so do try offering smaller mashed-up portions of the food that the rest of the family is eating, as long as you haven't added any salt, or sugar, or any other foods that are not suitable for babies.
5. Follow your baby's lead
Don't worry about how much they're eating at the beginning, as it's more important for your little one to get used to experiencing different flavours and textures. Allow plenty of time for eating, and go along with your baby's pace. Your baby may want to feed themselves, usually with their hands, or be happy to hold a spoon themselves whilst you spoon-feed them. Anything goes at this stage, so just follow your baby's lead. If your baby isn't interested, leave it and try again another day.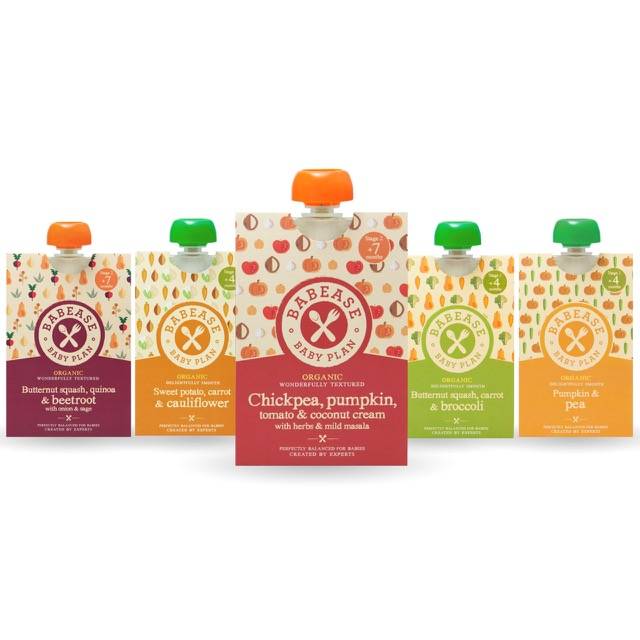 Babease Chef and Founder, Tom Redwood, is passionate about providing not just baby food, but food for babies, through the Babease range, which is 100% organic and vegetable-based, with no fruit fillers. The current range comprises 11 varieties and is available in First Tastes (recommended for 6 months+, but suitable for babies 4 months+, RRP £1.19), and Added Texture (suitable for babies 7 months+, RRP £1.49). Available from Boots, Ocado, Amazon, Booths and online at babease.co