We're a predictable bunch, as soon as the temperature drops, sales of soup start to rise. Shun the supermarket shelves and make a pact with yourself to make your own liquid goodness.

Grab a few ingredients…
Souping from scratch is seriously simple and the results are cheaper, tastier and healthier than anything you could buy in a tub. It's a great way to get veg into children's diets too. You only need a few ingredients to a make a batch of freezer-friendly soup, stick to vegetables for the main bulk, and add a few flavour boosting ingredients to excite it.
The Big Red
Tomato soup is always a winner, add a splash of cream if you're feeling nostalgic.
Fry 2 chopped onions in 1tbsp sunflower oil until soft. Add 2tbsp tomato puree and 2tsp sugar and cook for a minute. Add 3 cans of plum tomatoes and 500ml hot vegetable stock. Season well and simmer for 5 minutes. Throw in a small bunch of basil and whizz until smooth.
Pimp your soup: Add a splash of good quality balsamic vinegar, some chilli flakes or some grated Parmesan before serving.
The Rooty
Grab those lonely veg lurking in the fridge. Keep it chunky or make it smooth depending on your mood.
Fry 1 chopped onion in 1tbsp sunflower oil until soft. Add 800g diced mixed root veg- parsnips, carrots, potatoes, swede and celery. Season well and fry for 5 minutes. Add 1.2 litres hot vegetable stock and a drained can of lentils. Simmer for 20 minutes until tender. Add a handful of chopped parsley, then serve or whizz until smooth.
Pimp your soup: Add 2tsp Worcestershire sauce and a dash of Tabasco. Fry off 4 chopped rashers of smoked bacon with the onions.
The Squashie
Pumpkin or squash- they're all much of a muchness, but they made a darn tasty soup.
Peel, deseed and chop 1kg squash or pumpkin, put on a large baking tray and add 2 chopped onions. Toss with 2tbsp sunflower oil, then roast for 30 minutes at Mark 7/220C until tender. Put cooked squash into a pan, add 1 thinly sliced apple-sized potato and 1.2litres hot vegetable stock. Bring to a boil, reduce heat and simmer for 15 minutes until the potato is cooked. Whizz until smooth.
Pimp your soup: Add 1tsp chipotle paste or 25g grated root ginger with the potato. Toast some pumpkin seeds to scatter over the soup.
The Turbo Green
Stave off those winter sniffles with the nutritional powerhouse that is watercress.
Fry 3 sliced leeks and 2 large diced potatoes in 2tbsp sunflower oil for 10 minutes until very soft. Add a handful of parsley and 800ml hot vegetable stock and 400ml milk, season well. Bring to a simmer and cook for 15 minutes until potato is cooked. Add 200g watercress and whizz until smooth.
Pimp your soup: Add 250g cooked shredded chicken or cooked prawns to the smooth soup.
Essential kit…
Russell Hobbs Aura Mash & Blend (£34.99, uk.russellhobbs.com)

Whizz up your soups to a silky texture in seconds. The stainless steel blender attachment is easy to clean and is great for pureeing baby food. There's also a rather handy masher attachment to give you perfectly lump free spuds.
Cuisinart Soup Maker (£140, cuisinart.co.uk)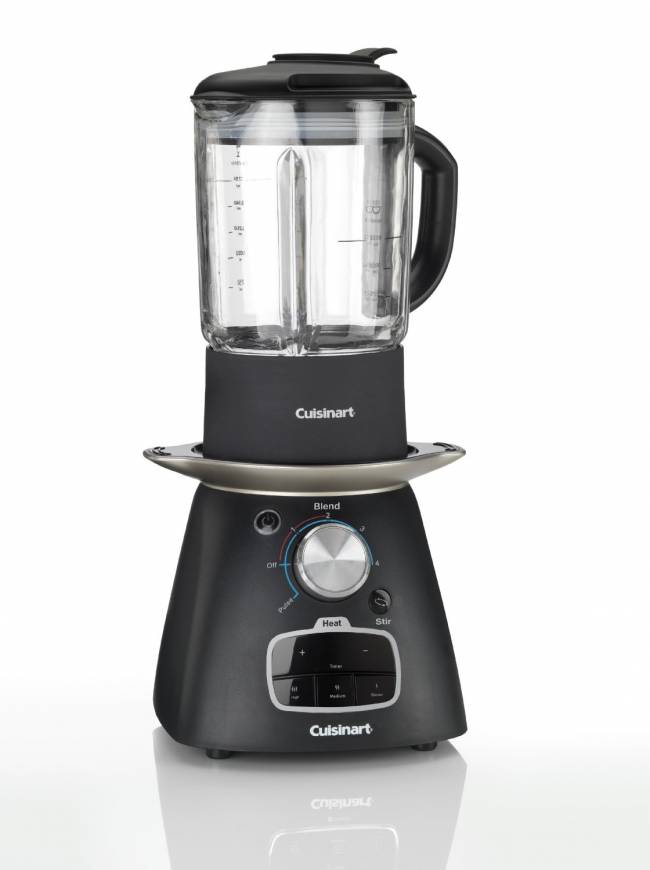 A pretty smart all-in-one piece of equipment. Saute, simmer and blend all in one. This doubles up as a traditional blender, so smoothies, crushed ice and batters are all a doddle.