We've got some mouthwatering recipes you can impress the family with for World Chocolate Day…
1. Chocolate cheesecake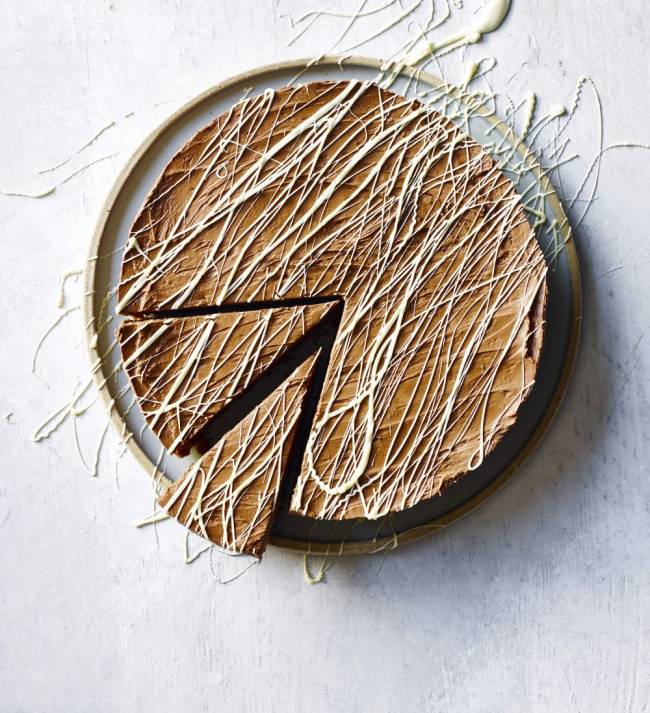 Vegetarian
Preparation time:20 minutes, plus cooling and chilling
Cooking time:10 minutes
Total time: 30 minutes, plus cooling and chilling
Serves: 8-10
Ingredients
400g Philadelphia soft cheese
100g caster sugar
60g unsalted butter, melted, plus extra to grease
180g ginger nut biscuits
225g dark chocolate, roughly chopped
200ml double cream
50g white chocolate, roughly chopped
Method
1. Preheat the oven to 200°C, gas mark 6. Beat together the soft cheese and sugar and set aside to come to room temperature. Grease and line the base and sides of a 20cm springform cake tin. Seal the biscuits in a food bag and bash with a rolling pin to crumbs, then stir into the melted butter. Press into the base of the tin and bake for 5-10 minutes, until crisp; set aside to cool.
2. Meanwhile, melt the dark chocolate in a heatproof bowl set over a pan of barely simmering water. Set aside until quite cool but still liquid. Whisk the cream to soft peaks, then fold in the cooled chocolate. Fold in the cheese mix, then spoon on top of the biscuit base and chill for at least 2 hours.
3. Carefully remove the cheesecake from the tin. Melt the white chocolate in a heatproof bowl set over a pan of barely simmering water. Drizzle over the top of the cheesecake and chill briefly to set.
2. Chocolate-dipped sea salt and rye digestives
Traditionally, malt extract gives digestives their distinctive avour. For this recipe I've used rye our – it's nutty, savoury and gives the biscuits a satisfying snap.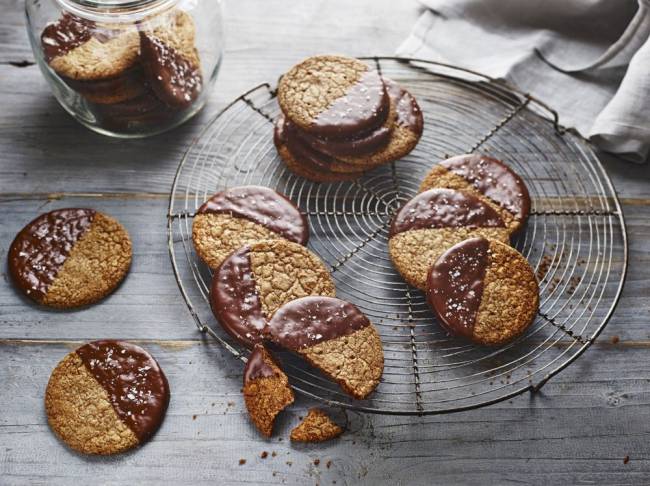 Preparation time:30 minutes, plus chilling and cooling
Cooking time:40 minutes
Total time:70 minutes, plus chilling and cooling
Makes: About 24 biscuits
Ingredients
240g dark rye our, plus extra for rolling
1 tsp baking powder
1⁄2 tsp fine salt
200g golden icing sugar
100g unsalted butter, at room temperature
75-90ml double cream
250g milk chocolate
Flaky sea salt, to sprinkle
Method
1. Preheat the oven to 180 ̊C, gas mark 4. Line 2-3 large baking trays with baking parchment. Put the our, baking powder, salt, icing sugar and butter in a large bowl, mixing with a fork (or a food processor) to create a sandy texture. Mix in 75ml cream until it starts to come together; you may need an extra 15ml if it's dry. Knead brie y to a rough dough; don't overmix.
2. Liberally our the worktop and roll the dough out to a thickness of 0.4cm. Using a 7cm cutter, stamp out rounds and place on the prepared trays, about 4cm apart; re-roll any trimmings to create about 24 biscuits. Use a bamboo skewer or fork to make deep indentations in the biscuits. Chill for 20 minutes.
3. Bake from chilled, in batches, for 20 minutes, until golden. Leave on the tray for a few minutes, then transfer to a wire rack and leave to cool completely.
4. Melt the chocolate in a heatproof bowl set over a pan of barely simmering water. Half-dip the biscuits in the chocolate, let the excess drip off, then lay on fresh parchment. Sprinkle with the salt; leave to set for 30-40 minutes. They can be stored in an airtight container for up to 1 week.
3. Mint Chocolate Tart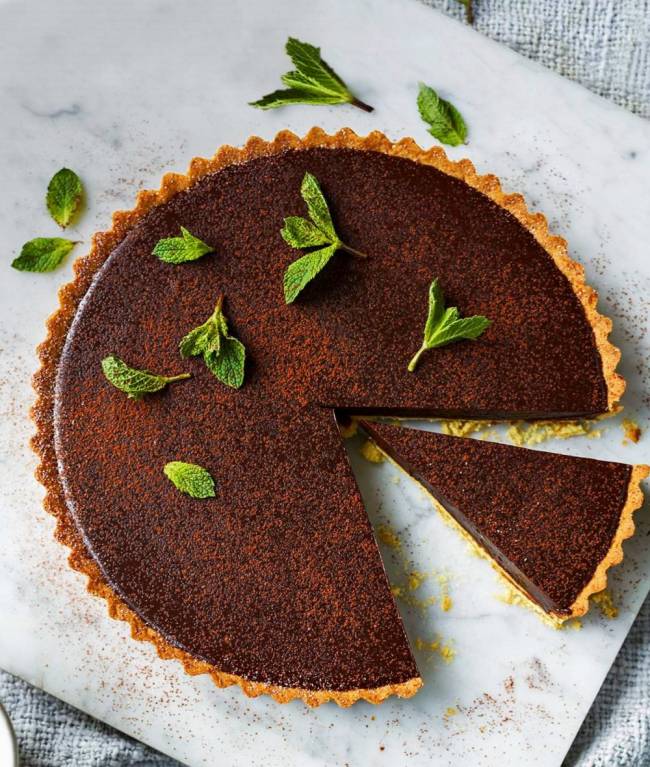 Preparation time:15 minutes, plus 2 hours chilling
Serves: 8 – 10
Ingredients
200ml thick double cream
25g unsalted butter
200g Waitrose Chocolate Mint Thins, roughly chopped
1 tbsp whole milk
205g sweet pastry case
Method
1. Put the cream in a small saucepan and gently heat until just below boiling. Remove the pan from the heat and stir in the butter and chocolates until smooth. Add the milk and stir well to combine. Pour into the pastry case and allow to cool. Chill for 2 hours in the fridge.
2. If liked, dust with icing sugar and/or cocoa powder, decorate with fresh mint leaves and serve with cream, if liked.
4. Rocky road ice cream bars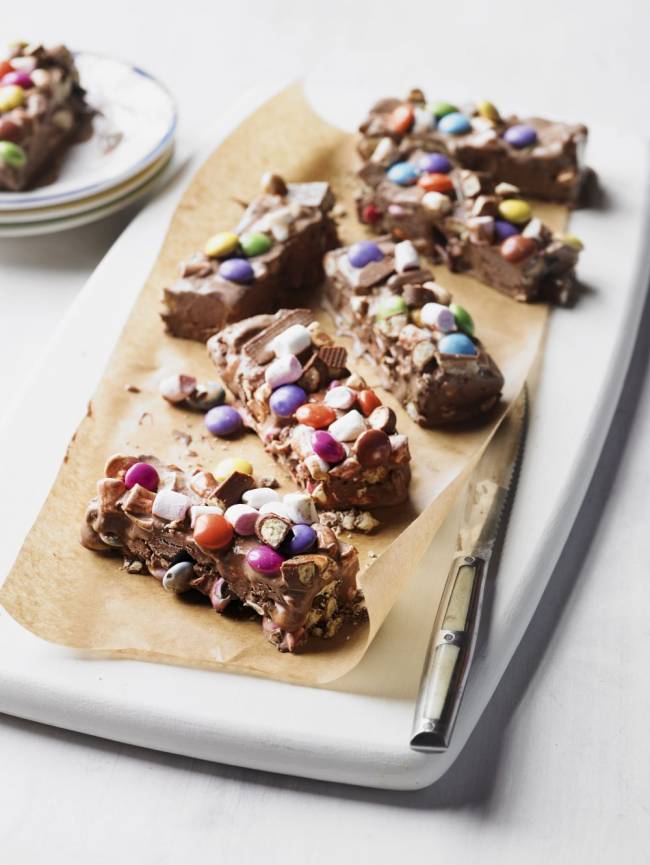 Vegetarian
Preparation time: 10 minutes + 2 hours freezing time or overnight
Serves: 12
Ingredients
25g Mini marshmallows
4 x 38g tubes Smarties
114g Milk Chocolate finger biscuits, snapped into short pieces
1 litre Chocolate ice cream
Method
1. Line the base of a 20cm x 20cm brownie tin with parchment.
2. Place the mini marshmallows, Smarties and chocolate fingers in a large bowl. Using a large knife, roughly dice the ice cream and add to the bowl. Mix well together then spoon into the tin and pat down to fill all the corners. Cover loosely with clingfilm and put in the freezer for at least 2 hours, or ideally overnight.
3. Turn out the rocky road ice cream, cut into 12 bars and serve.
4. Wrap any spare, unmelted, bars in clingfilm and freeze as individual portions, ready for any occasion.
5. Sea salt fudge brownies
The perfect pick-me-up with coffee, these moist, gooey brownies are dotted with chunks of creamy sea-salt fudge.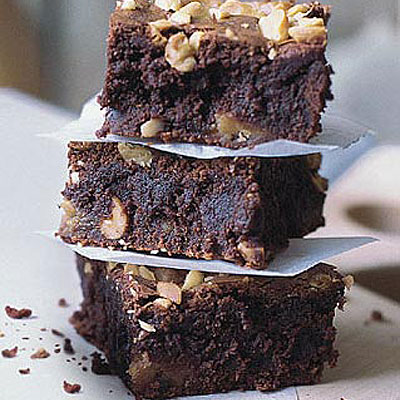 Preparation time:20 minutes
Cooking time:25 minutes to 30 minutes
Makes: 24
Ingredients
180g salt caramel fudge
250g chopped plain chocolate
175g unsalted butter
3 eggs
225g light muscovado sugar
75g self raising flour
½ tsp baking powder
100g roasted, salted large peanuts, chopped
Method
1. Preheat the oven to 190C, gas mark 5. Grease and line a 27 x 18cm shallow baking tin with baking parchment. Cut the fudge roughly into 1cm cubes.
2. Put the chocolate and butter in a bowl and melt, either using the microwave on medium power for 2-3 minutes or by resting the bowl over a pan of gently simmering water. Stir to make a smooth sauce.
3. In a separate bowl, whisk together the eggs and sugar until thick, smooth and beginning to froth. Stir in the slightly cooled melted chocolate mixture, then the flour and baking powder.
4. Lightly stir in half the fudge and nuts and turn into the tin, spreading into the corners. Scatter with remaining fudge and nuts. Bake in the oven for 25-30 minutes until a sugary crust has formed but the mixture feels wobbly underneath. (Check the brownies frequently towards the end of cooking as the flavour and texture are better if moist and gooey. Don't forget that both the chocolate and butter will firm up as the cake cools.)
Recipes from: http://www.waitrose.com/baking